Streamline Operations, Gain Insights and Grow Revenue
with Biz4x for Money Changers and Remittance Providers
Money services businesses are faced with intensifying competition and the disruption of their traditional business models due to rapid advances in financial technology. Biz4x was developed specifically for money services businesses to meet the regulatory challenges of the day and leverage new technology to maximise their profits and business potential.
Maintain a view of your business performance by recording all cost of foreign currency stock, foreign currency transactions and customer details
Monitor real-time financial market data feed for interbank rates of global currency pairs for price setting and trading to optimise profits
Gain more customers by posting board rates on digital rate boards and currency rate display boards
Stay compliant with local laws on MSB money laundering with AML and KYC screening against a global risk intelligence database with AML, CFT, PEP and other sanctions lists.
Manage your foreign currency stock by buying and selling banknotes online on a marketplace for banknote dealers
Industry Digitalization Initiatives
Biz4x lowers the barriers of entry to new financial technology. This allows money changers and money transfer operators to adopt new digital business models, channels and payment options, to attract and retain customers.
Branded Website & App
Promote your business and publish your rates across a branded website and mobile app. Biz4x allows you to provide a seamless customer experience across multiple platforms.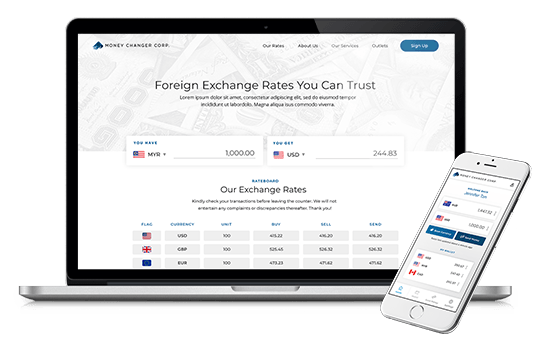 FEATURES
FEATURE #1
Integrated Rateboards
Input your retail rates into the Biz4x system and your customers will be able to reference your latest Buy, Sell and Send rates from integrated rateboards on your website and mobile app.
FEATURE #2
Customer Onboarding
Allow customers to register for an account on your website. A streamlined workflow ensures all data is synced to your Biz4x customer database to facilitate KYC screening.
FEATURE #3
Currency Booking
Enable booking capabilities through your branded website or mobile app so customers can reserve currencies directly with your business to lock in preferential rates.
Monitor web and app traffic to gain key business insights into customer behaivour and optimise your digital channels for greater engagement and conversion.
Digital Payments
Biz4x supports digital payments so money services businesses can adapt to the societal shift towards cashless modes of payment as propagated by financial technology and remain relevant in changing times.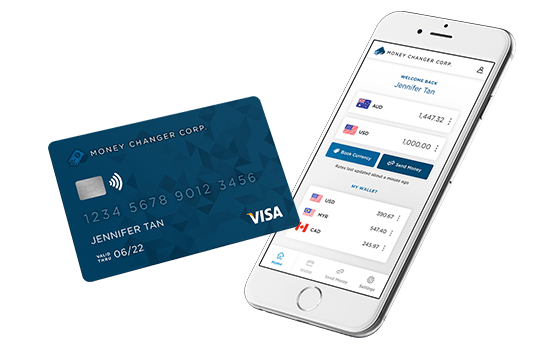 FEATURES
Earn recurring transactional revenue from customers when they convert, exchange and store value of different foreign currencies on-demand through a digital wallet that is integrated with an app. Customers will be able to spend online or send money to another digital wallet at their convenience.
FEATURE #2
Multi-Currency Card
Issue a multi-currency card for local or overseas use and allow customers to store and top-up the value of different foreign currencies in a pre-paid card. Allow customers to monitor and manage their currencies through a connected mobile app.
FEATURE #3
Transaction History
Reference customer information on Biz4x though a dedicated interface that provides detail on eWallet balance and past transaction history.
Currency Exchange Kiosk
Install currency exchange kiosks at high traffic locations offering FX and remittance services so you can scale your business without incurring high overheads from opening new retail stores.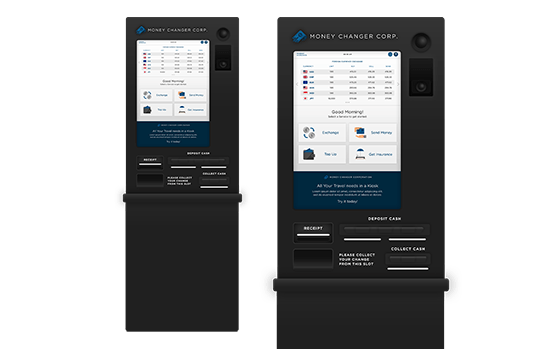 FEATURES
FEATURE #1
Currency Exchange
Allow customers to exchange currencies at their convenience through a simple automated workflow.
FEATURE #2
Money Transfer
Send money securely across multiple corridors through trusted remittance providers.
Top-up digital wallets and other online accounts with local and foreign currencies.
FEATURE #4
Partner Products
Earn a referral fee when customers purchase travel insurance and other related products from partner providers at competitive prices.
Rate Aggregators
Biz4x is connected to price comparison sites for cash exchange and money transfer rates so businesses can publish their business information and rates, receive booking and acquire new customers.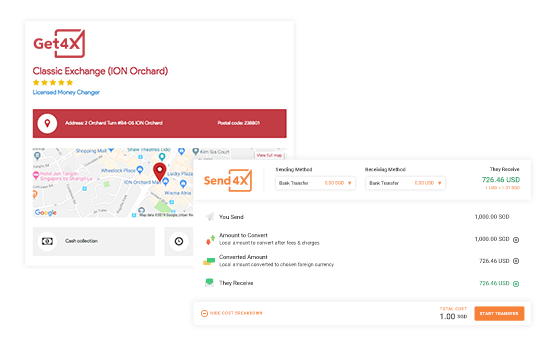 FEATURED PLATFORMS
Get4x is a price discovery platform for travellers and an online directory of currency exchanges in more than 20 global cities. Currency exchanges can post their Buy and Sell retail prices for travellers to book local or foreign currencies at their preferred rate and location.
Visit Getx Website >
Send4x is a price discovery platform that compares and provides a detailed cost breakdown of money transfer fees and methods so users can find the cheapest, fastest and most convenient way to transfer money.
Visit Send4x Website >
Interested or have questions about Digitalization? Feel free to reach us at sales@biz4x.com
---
Popular Features Among Money Service Businesses