RESOURCES
News
Find out about our latest product updates as well as trending topics in the business world
17 Jan 2019

A Year in Preview - Digital Transformation of Money Services in 2019 (Part 2)
We are continuing our two-part series on the past and future developments of Biz4x. Earlier, we published the first part of our series reviewing all the improvements and new features focused on efficiency and compliance made to the platform in 2018. In this second part, we will be sharing our plans for 2019. While we will continue to work on features that will help you become more efficient and compliant, 2019 will be the year where we continue our push towards further digitalization of the money services business industry through a number of projects, two of which we will discuss in greater detail in this post.
Why Digitalization?
Our world is becoming one that is increasingly cashless, with the future of physical cash and consequently, the traditional cash-focused money services business model hanging in the balance. To survive in this increasingly cashless world, where digital payments will become the new normal, money services businesses must find a way to adapt, before their thinning margins are increasingly chipped away by advances in financial technology revolving around digital payments, automation and online services. While cash will continue to be used in many parts of the world for many years to come, the convenience and ease of digital payments, together with global "go digital" government initiatives, will ensure that increasingly large swathes of the population turn to digital payments. One way then to tap into the digital payments trend is to offer automated and online services in currency exchange and money transfer to provide greater ease and convenience to customers seeking on-demand services, often through the convenience of their mobile. The digital transformation of money services businesses is essential for the survival of the industry as a whole. With that in mind, our two new digitalization projects in 2019 will focus on providing businesses with new streams of revenue that are based on delivering convenience to customers and extending services beyond physical retail outlets.
The Background
Biz4x was built with the latest technologies using a micro-services architecture following PCI DSS and OWASP guidelines for security and confidentiality. It is an enterprise-level platform that serves as a secure and reliable foundation for current and future business features with the full and incorruptible audit trail of all business activities.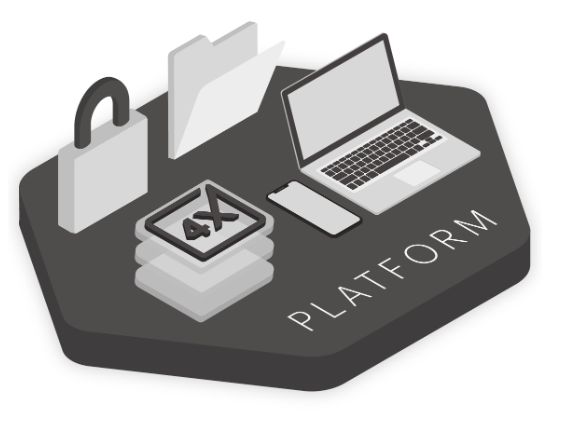 It has built-in core capabilities such as the provision of market data, compliance, business management and wholesale trading capabilities with multi-outlet support to efficiently run money service business operations of any size. Furthermore, it was specifically designed as a modular platform to cater to new industry requirements - it's how we have been able to roll-out new innovations such as the Biz4x Marketplace in 2018, and how we will continue to add new capabilities in 2019.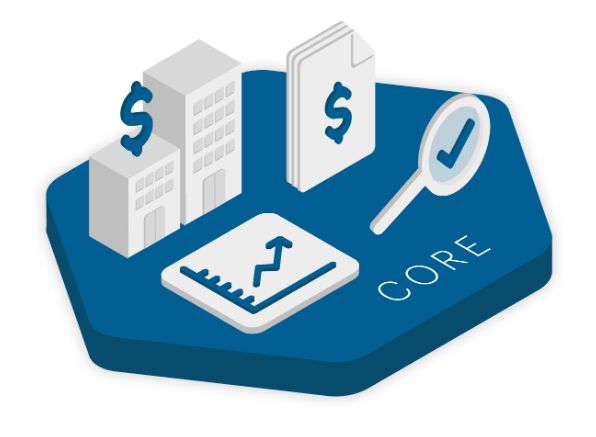 While we have been focused on building out core capabilities in the years past, 2019 will mark the start of a new beginning for us, where we will actively kickstart innovative digitalization projects for the money services industry. Our mission has and remains the co-creation of innovative solutions to better serve the business requirements of today's money services businesses. In the process, we are incrementally digitalizing money services operations by providing them with digital storefronts - so money services businesses can more effectively compete in an increasingly digital and cashless society.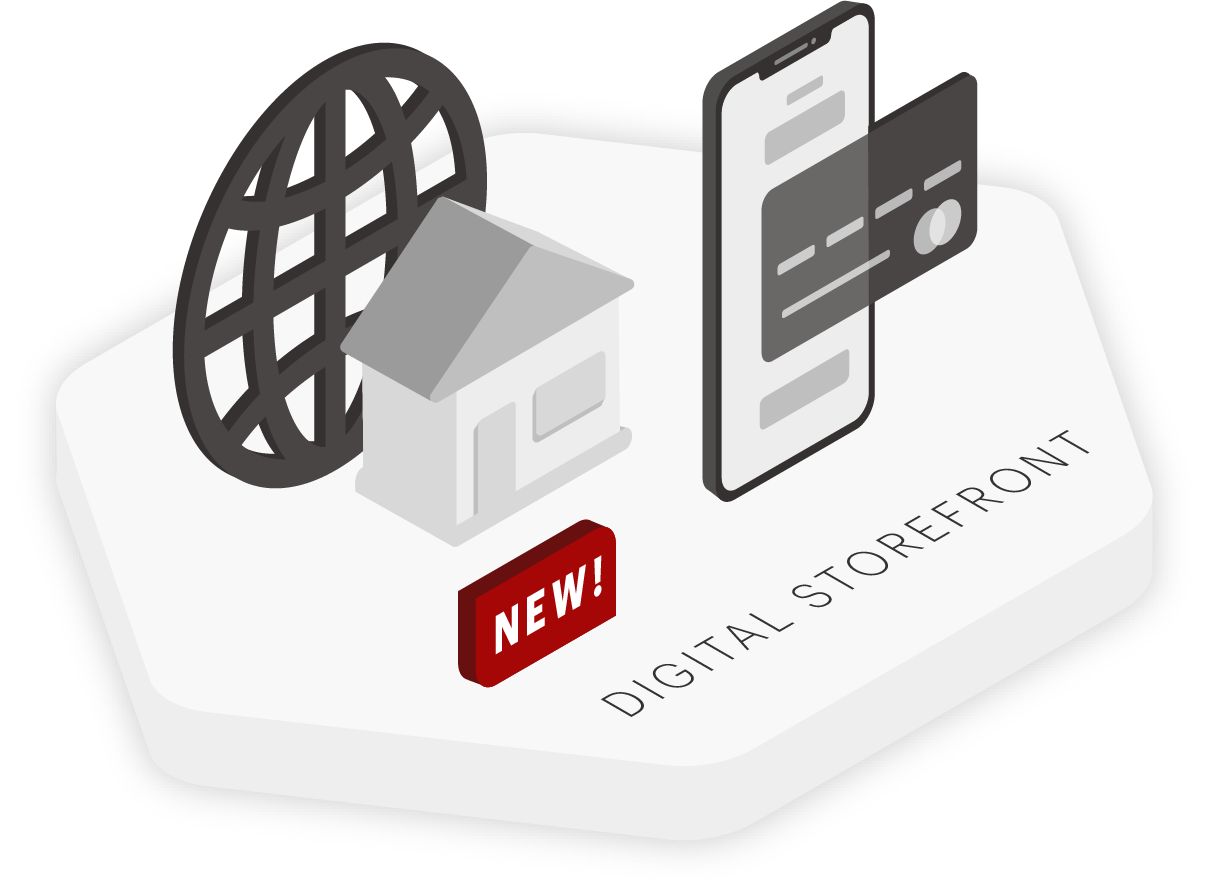 Digitalization from the Get-Go
We set out on a path of digitalization early, with the development of Get4x in 2012, a price discovery platform where you can reach more customers with an online business profile. Get4x allows you to set and manage your best rates, as well as receive currency bookings. Today, money services businesses have brand visibility and access to more than 200,000 global travellers in 22+ cities through Get4x. We further built upon our digital storefront module by providing the capability to create custom rateboards, as well as securing partnerships with different rate aggregators so that Biz4x could become a single point of input to conveniently manage and distribute your rates across multiple platforms.
In 2019, we will debut a new price discovery platform, Send4x, where individuals can compare and locate the best money transfer rates from our partners and customers. As we continue on to the second phase of our digitalization journey, we'd like to introduce you to a few of our 2019 initiatives, as well as invite you to join us as a co-creator on these projects which will be focused on creating new digital storefronts for your business.
Extending Beyond Cash-based Transactions with New Digital Channels and Payment Options
It's almost unthinkable for a modern business not to have a website these days. While some larger businesses do have a website where they promote their rates and services, the reality is that many money services businesses today continue to only have an offline presence in physical retail outlets. Our goal then in 2019, is to ensure that our customers have their own website if they so desire, in addition to their business profile on Get4x. This will be a fully branded website with rates and business information that you can easily update and showcase.
But that's not all.
We are going one step further with plans to provide money services businesses with a white labelled mobile app that they can brand as their own and provide to their customers. This will allow their customers to quickly and easily check and book rates from the convenience of their own mobile phones. Any business that tries to develop its own mobile app would incur significant costs and development time in hiring talent and securing vital partnerships. In all likelihood, the industry would have moved on to the next big thing, before the app is even in production! By providing a white labelled website and mobile app at scale to all our customers, they will be able to avoid such pitfalls, by relying on Biz4x's technology and our expertise. Aside from the mere conversion and provision of rates, the app will provide a few innovative new features.
eWallet
The mobile app will include eWallet functionally, allowing your customers to access a mini money changer in their pocket when they are on the go. This wallet will provide the following capabilities:
Stored value of multiple foreign currencies
Value top-up through various options
Exchange of currencies between different wallets
Remittance or money transfers directly from the wallet
Purchase at partner retail outlets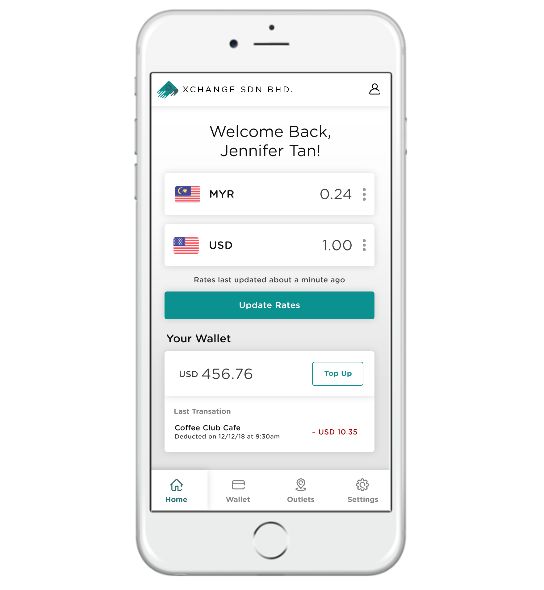 Multi-currency card
The multi-currency prepaid card can be fully branded as well, and will be linked to the eWallet. With it, your customers will be able to spend through any of the major payment networks and you will be able to determine preferred fees and rates.
The white labelled mobile app gives your business a clear competitive advantage by making it easy for customers to exchange or remit money through your branded mobile app. It also creates a repeated and direct stream of revenue when they transact directly with your business, instead of your competitors, out of sheer convenience. With the global push towards a cashless society, customers are increasingly adopting cashless methods of payment, and by providing them with alternative options to exchange currencies digitally, you will be more likely to retain their business, ensuring your relevance to current trends, and continued business sustainability.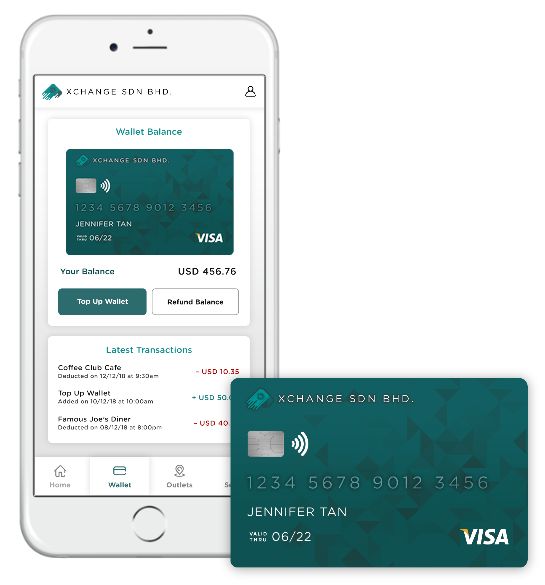 Scaling Beyond Retail Outlets with a Currency Exchange Kiosk
Imagine a future where you could set-up branded currency exchange kiosks in multiple physical locations. That future could be as soon as the next 12 months. A branded currency exchange kiosk would be a proxy for a physical store, allowing you to avoid expensive business set-up costs, such as start-up capital, rental, overheads and the need to staff such outlets.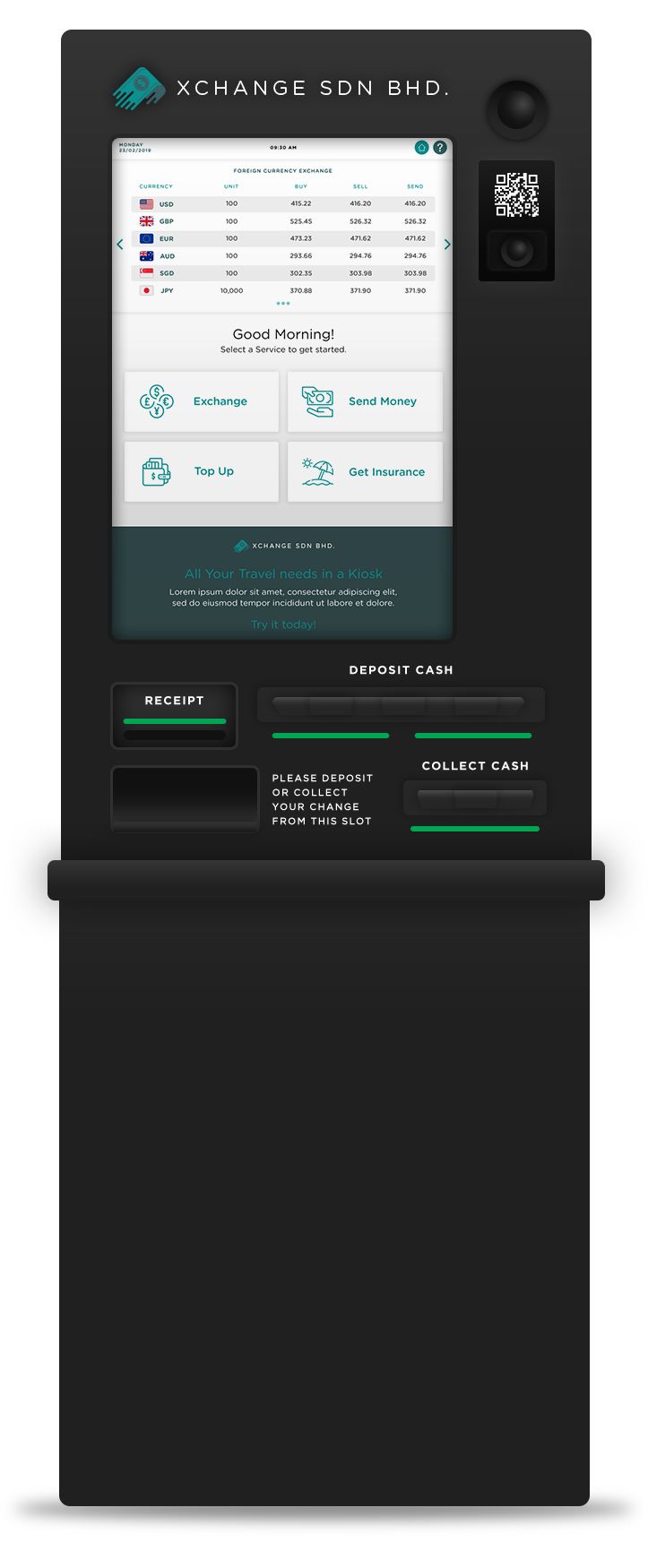 You would be able to set your own rates, as well as provide 24/7 service to customers. Through the kiosk, customers would not only be able to exchange currencies, but access additional services, such as money transfer, stored value top-up for multi-currency cards or purchase of insurance.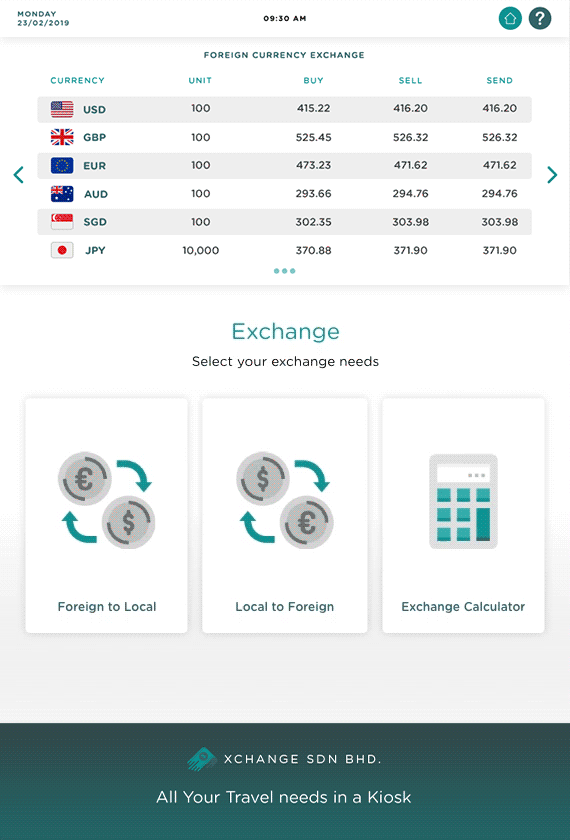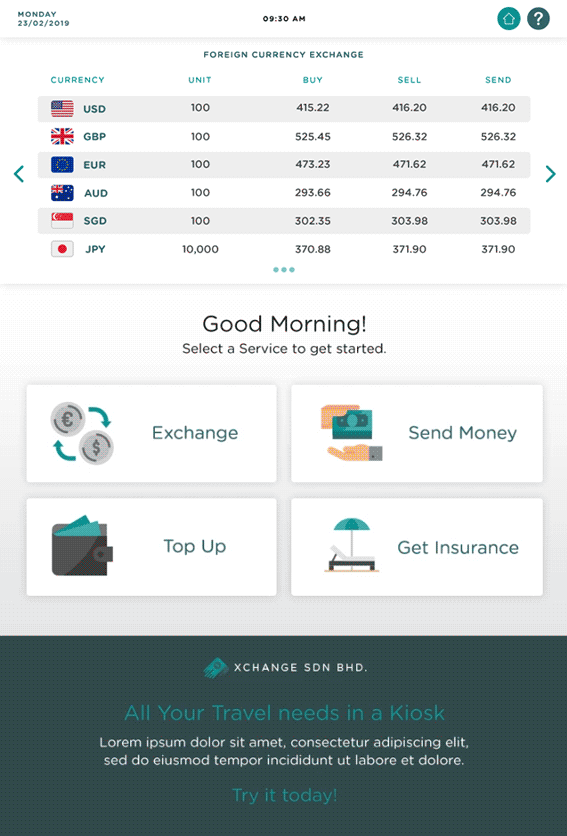 The cost savings of having these currency exchange kiosks and another channel through which to generate revenue would be tremendous.
Where Do You Come In?
In order to deliver on these initiatives for 2019, we need your support. Not just the emotional support of a cheerleader, but your dedicated commitment to co-create these projects as technology and business partners, dedicating resources to turn these plans into fully executed projects. If you think you can contribute to these projects or would like to learn more about how you can get involved and provide your input during ideation, drop us a note at sales@biz4x.com, or reach out to your account manager.
We're building a new future for the future of this industry, and we'd like to do it in collaboration with our most important stakeholders - you.

Join Biz4x to start growing your business
Sign up for a free trial today!