RESOURCES
News
Find out about our latest product updates as well as trending topics in the business world
24 January 2017
Check Live FX Rates from the Convenience of Your Mobile
Today, we've updated and released a number of new improvements to make it easier and more convenient for you to access the various features of Biz4x.
What's new?
- Local currency will be used as the base currency in Live FX Rates
- Customised colour theme for Live FX Rates
- Live FX Rates now available on mobile
- Ability to edit both Buy and Sell prices directly from the main Your Rates console
- Notifications for new updated features and support articles
Live FX Rates
Local Base Currency
Biz4x is used by money changers all over the world and today you'll realise that any new accounts that are activated for the first time will display your local currency as the base currency for the default major currency pairs that are displayed in Live FX Rates. This means that if you are a money changer that is based in Australia, you'll see default currency pairs like EUR-AUD or USD-AUD.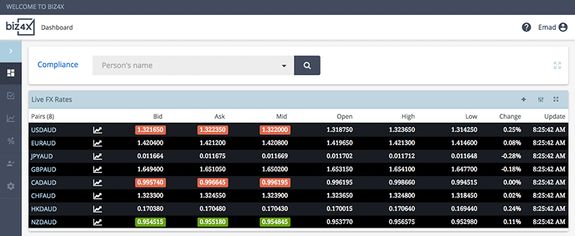 Colour Theme
Based on the feedback you have given us, we've rolled out a new colour scheme for the background of the Live FX Rates for those of you who prefer a lighter background.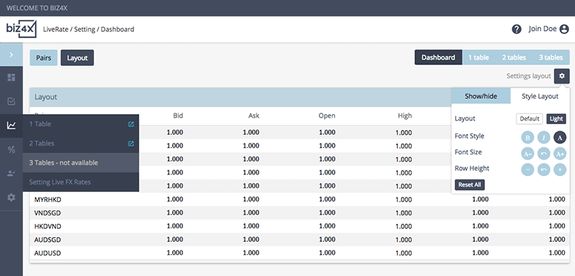 You can change the colour scheme by clicking on the Setting Live FX Rates option on the left menu bar. Select Layout at the top corner of the screen then click on Settings Layout. You will see various dropdown options on Style Layout where you can adjust the font style, size and row height.
Mobile
Live FX Rates can now be easily accessed on mobile devices, making it easier for you to refer to these rates, even if there isn't a desktop computer in sight! All you have to do, is log in to Biz4x from your mobile device.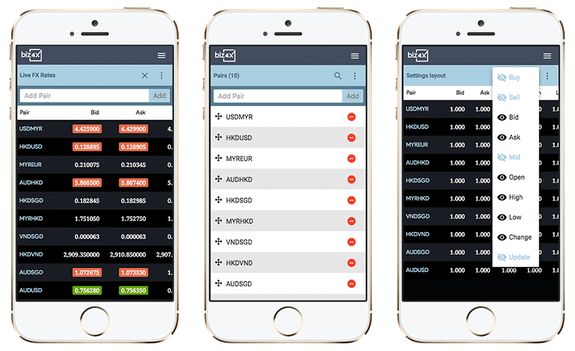 Your Rates
Based on your feedback, we have also made it easier to edit your Buy and Sell prices from the main Your Rates console. Previously, if you were on the main Your Rates screen, you would have to click on the edit icon, which would take you to another screen to input rates. However, you can now simply click on the dropdown option to reveal your options for editing rates.
Notifications
Moving forward, whenever we update the News or Support sections with articles that might be of interest to you (eg. release notes), we will indicate these updates on Biz4x itself. You will be able to directly access News or Support through Biz4x to read these articles.

General Improvements
Other UI improvements we've made to Biz4x include improving the general look and feel of the dashboard by tweaking elements like the margins, font and alignment. The loading time for compliance search results has been reduced as well.
Log in to Biz4x today to check out these new updates and let us know what you think!

Join Biz4x to start growing your business
Sign up for a free trial today!