RESOURCES
News
Find out about our latest product updates as well as trending topics in the business world
06 July 2017
Product Update Version 1.8 - Create Configurable Transaction Reports and New Document Versions for Regulatory Reporting
We are debuting a fresh new look for Biz4x today, with a new set of colours, and thematic icons that correspond to the various product features. You'll see that the customer creation screen has a different layout, along with a few other visual and product improvements, all of which go into making Biz4x the very best operating system for currency exchange that your business can count on.
Business Management
Transaction Reports
You may already be recording all customer transactions with Biz4x, so you can monitor profit, loss and inventory. Biz4x v1.8 makes it easier to access and analyze that data through management reports that you can create and export into .xls files.
| | | | | | | | | | | |
| --- | --- | --- | --- | --- | --- | --- | --- | --- | --- | --- |
| Trn No. | Date | CCY Code | CCY Name | B/S | Amount (F) | Rate | Amount (L) SGD | Cus. Group | Cus. Nationality | Outlet |
| GTRC-5XBUR9 | 05/06/2017 03:01 | GBP | Pound Sterling | B | 10,000.00 | 1.775100000 | 17,751.00 | Walk-in | India | 4xLabs |
Choose between several options such as:
- Buy or sell data
- Time frame
- Specific currency amount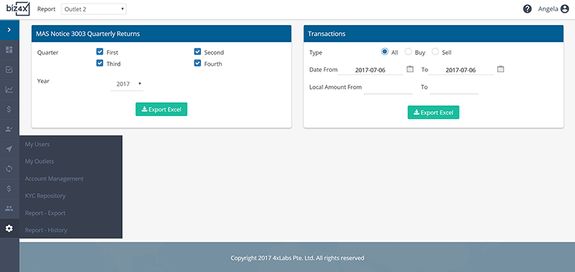 In subsequent Biz4x releases, we'll be refining the reporting capabilities so you can customise your management reports according to your business needs. Have a particular request? Let us know, and you may soon see it in new report filters.
Regulatory Reports
As a money changer, there are regulatory laws you have to adhere to, such as submitting certain reports when required by the authorities. Biz4x facilitates this process by allowing you to quickly export these data into pre-formatted reports. At the moment the following reports are currently available for export:
Singapore:
- MAS3003 Report

- Money-changing transactions
- Remittance transactions / Inward remittance transactions
Malaysia:
- MSB03 Report

- Import and export of foreign currencies
- Domestic buy and sell of foreign currencies

- Transactions by types of currencies
- Transactions by types of customers

- MSB4A Report

- Income statement
- Balance sheet
- Maintenance of minimum capital funds
We'll be adding more and more reports to this list in future releases so once again do let us know if you'd like to request for a particular report. Send us a sample, and we'll consider including it if we see demand from the community! Aside from creating reports, you can see and download past reports that have been exported from the Report History screen, as well as who created them and when they were created.
KYC Repository
In our last Biz4x release, we introduced the KYC Repository where you can upload documents for the ease of conducting identity verification checks, and to show proof of these Know Your Counterpart assessments in the event of an audit. It's important to note that documents in the KYC repository cannot be deleted and you can only upload documents to the Company, Outlets or User categories, which are fixed as well. We've made a number of improvements to the repository to facilitate its ease of use. Here's a few of them:
Sort documents by Name and Time
Describe documents through a rich text editor
More defined folder hierarchy
Upload new versions of documents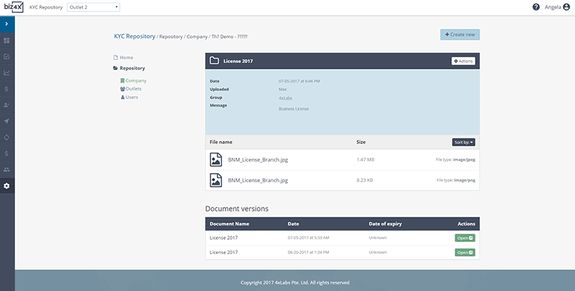 We hope you enjoy exploring these new features! Want to request a report or feature? Write in to us and send a sample template to support@biz4x.com. We look forward to hearing from you!

Join Biz4x to start growing your business
Sign up for a free trial today!