RESOURCES
News
Find out about our latest product updates as well as trending topics in the business world
2016
Product Update Version 1.0: First Look and Customizing Your Biz4x Dashboard
Aside from industry updates, one of the reasons why we launched the new Biz4x blog is to provide you with regular product updates about Biz4x, so you can always be in the know about the latest features and services that we are launching. As the first in our series on product updates, we are delighted to unveil your first look at the Biz4x dashboard, as well as highlight some of the important changes that were made for a better user experience.
Dashboard
One of the biggest improvements that the Biz4x dashboard provides is the ability for you to view all important information at a single glance. Instead of logging into, launching and switching between different products, the Biz4x dashboard provides direct access to the Compliance Risk Management database, as well as all the Live FX Rates table, so you can monitor rates, as well as conduct background checks on customers all in one console.

Live FX rates
While we provide a quick summary of major currencies on the main dashboard, you can also switch to a dedicated screen to see all real-time exchange rates for major currency pairs.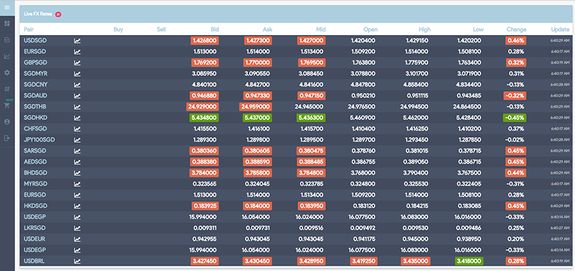 The currency pairs are of course fully customisable and you can add, edit and delete your pairs as well as set your own margin for reference. Instead of a single table, you can also create two or three table views for easy comparison.

If you would like to drill down to market trends and view historical data, that information is made available to you through detailed charts as well.
Compliance
Version 1.0 of Biz4x allows you to search for names and perform a background check on customers directly from the main dashboard for your convenience. You can also opt for advanced search features by entering a customer's date-of-birth, passport number and country of citizenship.

Exact matches in the compliance risk database will be flagged in red as 100% matches, while partial matches will be in blue, and accorded a corresponding percentage match.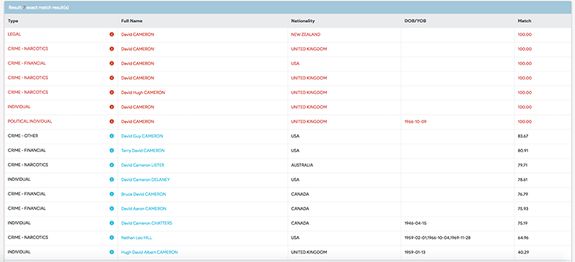 Biz4x compliance risk management database has 2.9 million results and comes from 100,000 data sources, and you can find out more information about any individuals that appear in the search results by clicking on their name to refer to the sanctions or PEP lists they do appear on.
Account Management
Biz4x makes it easy to manage your business across multiple retail outlets especially if you have multiple employees. You can add, edit and delete users, as well as assign different permission settings for each user.

One of the great features of Biz4x is being able to edit your own outlet details, which is synced and made available for public viewing on our exchange rate discovery application known as Get4x. The advantage of providing this information about your outlet, is that it helps to better profile your business, so customers can search for your store online and view opening hours, which in turn drives more customers to your business.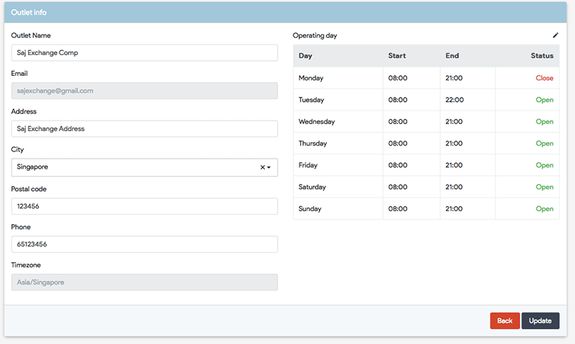 In summary, Biz4x 1.0 provides:
- A dashboard where you can access all the features that are essential to your business with a single convenient log in
- Customisable currency pairs and multiple viewing options
- Detailed historical charts on FX rates
- Advanced compliance search filtering with corresponding percentage matches
- Detailed information on individuals that appear in compliance database
- Account management and customised settings for user permission
- Customisation of outlet details
Stay tuned as we bring you more product updates in our next post!

Join Biz4x to start growing your business
Sign up for a free trial today!