RESOURCES
News
Find out about our latest product updates as well as trending topics in the business world
2016
An Important Announcement for All Our Users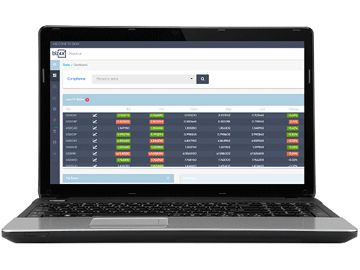 You've been a vital part of our success story since we launched our series of products for money changers in 2015. Over the months, we've taken into consideration much of the feedback that you have provided us with and this month, we're beyond excited to announce that we've released a new upgraded version of our software. Now rebranded as Biz4x, the newly launched application is an operating system for money changers that caters to all your business needs.
What's New in Biz4x?
Biz4x offers you all of the same great features you have grown to know and love in our various products (Management Software, FX Rates Console, PEP Tools) in one integrated application. The difference is that you can now easily access them all in one convenient and beautifully designed dashboard.
Live FX Rates: Monitor up to 50 currency pairs at any one time. Our live data means you know instantly when there's a change in the interbank rates.
Compliance Risk Management Database: Conduct an unlimited number of Know Your Customer background checks within a comprehensive database (2.9 million results from 100,000 data sources) of AML, CFT sanctions and PEP lists.
Business Management: Business Management is essentially both a point-of-sale and customer relationship management system where you can manage your foreign currencies and set your rates (Buy / Sell prices).
Customer Acquisition: If you were accepting currency bookings from customers through the Get4x Pro application, you will be familiar with this feature. Biz4x will once again allow you to accept currency orders from customers on Get4x , our online information portal for travellers, so you can grow your business. In addition, you will also be able to edit information on your business pages and specify your exchange rates for travellers.
Over the next few months, we will be rolling out a number of new updates and features as well as incorporating more of your feedback. We understand that you may have some questions and concerns during this transitionary period, so we've created a short FAQ to address some of these primary concerns.
I preferred having separate products for compliance, live rates and currency management. Why are you combining the products in one application?


---
Combining the different products into one application allows our team to develop new features for your business through a holistic approach. This allows us to debut new innovations for your business, while still keeping the product affordable. Instead of paying several different rates for product lines, which might double or even triple your costs, you will now enjoy all the features of Biz4x for one reasonable flat rate.
I don't need a certain feature. Can you remove it?


---
While we will provide you with all the advanced functionalities of Biz4x, you can choose not to use any particular feature if it is not something that you are interested in. However, we strongly urge you to take advantage of all the great features the platform provides to ensure you can get the most out of your investment.
What is going to happen to my current data in Management Software / Live Rates Console?


---
Your Biz4x account manager will work with you to ensure that all your data is safely migrated to the new Biz4x platform. At the same time, you can continue using the previous products like FX Console and Management Software until the data migration is completed.
I have a suggestion for a new feature. Who should I contact?


---
We're always looking out for great ideas to improve our product so if you have a suggestion about a feature that you'd like to have included in Biz4x, let us know through our feedback form or your account manager.
If you have a pressing question that is not covered here, please feel free to reach out to your account manager and we will be in touch with you shortly.
What Happens Next?
If you're wondering what you have to do to access the new Biz4x, the answer is nothing… for the moment. In the coming weeks, your account manager will be in touch with you to guide you through the process. We plan to finish migrating all customer accounts by the end of this month, and then focus on building out some exciting new features that will undoubtedly benefit you.
We hope you're as excited as we are about the coming upgrade and please do not hesitate to reach out to your account manager for any further clarification!

Join Biz4x to start growing your business
Sign up for a free trial today!