RESOURCES
News
Find out about our latest product updates as well as trending topics in the business world
21 August 2017
Biz4x Release Version 1.10 - Introducing the Profit and Loss Report
Reports have always been one of the most commonly asked for features in Biz4x. In the last few releases, we've been unveiling one report after another, from transactions, to regulatory and stock. This week, we're happy to announce the release of yet another new report that has been requested by many of the money changers in our community - the profit and loss report.
Profit and Loss Report
As a Biz4x customer, you can choose to specify the time period for which you want to see the profit and loss of all recorded transactions and decide to view them for specific or all outlets. Once you're happy with your choice, just click on Export Excel, and the customised report will be downloaded to your desktop directly. The Profit and Loss report which can be found under Business Management > Reports allows you to see the type of currency that has been sold, date, transaction number, amount, rate at which it was sold and computes the rate of profit and loss the amount of currency was sold at. As with the other reports, you can go to the Reports History section to see when these reports were created, who created them, and download a copy of the generated reports for your own reference.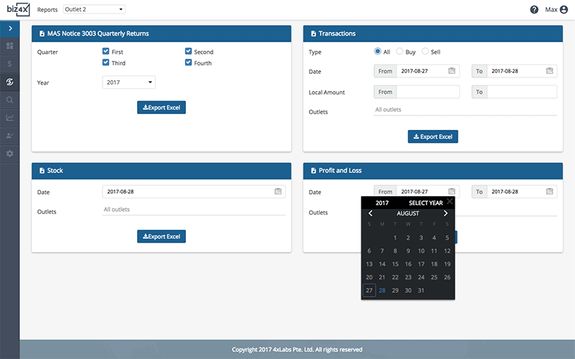 Your Rates
It can be time-consuming to manually update all your rates individually, and enable them for viewing on the various available platforms. If you have previously set-up your list of currencies for individual outlets, as well as their Buy and Sell prices, we are now giving you an option to enable all your rates by selecting one master option on the main dashboard. Selecting this option will turn all your indicative rates live. Where these rates will be displayed, will then depend on your previous set-up under My Currencies > Your rates. If you had previously opted for it to be displayed on Get4x and the rate board, it will be for both. If it is enabled for Get4x, Moneybay and the rate board, it will be enabled for all three as well. If need be, you can individually adjust the Buy and Sell prices of specific currencies after enabling them, or go to the dedicated currency set-up screen to select which platforms you wish to display them on.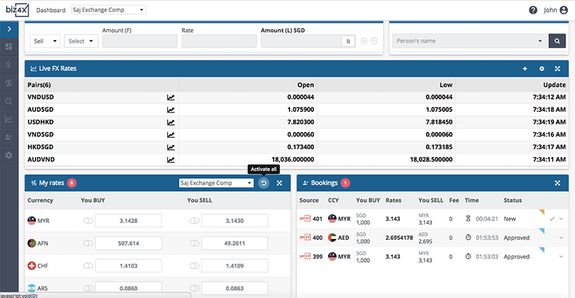 Rate Board
Now, under My Currencies > Rate board you can further customise your rate board by uploading your business logo to the template you have selected, whether it is in the portrait or landscape mode. Additionally, you can quickly and easily reorder the columns on your rate board table by dragging and dropping them to the right positions accordingly.
Search Filters
Within Biz4x, you can view the historical transaction records for all your outlets under Business Management > Transactions > Transaction history. We've created additional search filters to this list of transactions, allowing you to filter results based on different criteria:
- Type: All, Buy, Sell
- Foreign currency amount
- Currency type
- Phone number
- Customer name
- Customer group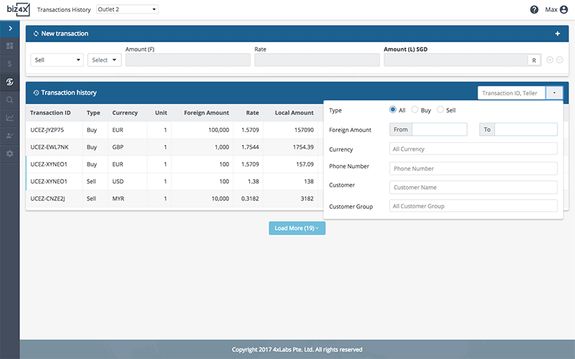 Similarly for Business Management > Customers > Customer list, you can now filter customer records for different outlets by the following criteria:
- Document number (passport number, ID no. etc)
- Phone number
- Nationality
- Group Name (Walk-in, Corporate)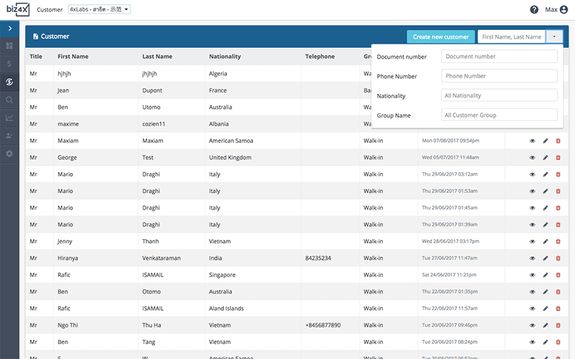 We hope you find these improvements to Biz4x useful and as always do let us know if you have any feedback about the latest release at support@biz4x.com.

Join Biz4x to start growing your business
Sign up for a free trial today!