RESOURCES
News
Find out about our latest product updates as well as trending topics in the business world
30 May 2017
Product Update Version 1.6 - Manage all your currencies in one screen and set up your Rate Board
This week, we're releasing two major updates in addition to the usual UX improvements that we add to every new version: Currency Settings and Rate Board.
Currency settings screen
Adding or editing an existing currency or currency pair is now easier than ever before, as we've consolidated this into a single dedicated currency settings interface. Click on the "Your Rates" icon from the main menu bar to the left of the screen and select "Currency settings" in the sub menu bar. Currency configuration is now centralized here for your ease and convenience. Customize the following variables according to your business needs:
1. General currency settings
The USD is displayed by default for every new currency that you create, but can easily be edited depending on your preferences, business set-up or geographical location. Edit the precision level of your currencies that will be displayed for transactions, bookings and stock. For higher levels of accuracy, you can go up to eight decimal places and if you do not require that degree of detail, you can opt for less. The choice is yours, as these configurations are completely customizable within Biz4x.
2. Detailed rate settings
Aside from the degree of accuracy in terms of decimal places, you can also edit the unit, denominations that are accepted, as well as the direction of your rates, whether they are normal or inverse.
3. Outlet rate settings
Set different rates for different outlets and choose where you wish to display your rates to get more customers. You can opt to display it on Get4x, which is an online directory for money changers that is available in 13 different cities, or Moneybay, an exchange rate aggregator that is available in Malaysia. Be seen in more countries, and discovered by more international travellers! You can also opt to display your rates on a Rate Board, which brings us to our next main feature upgrade.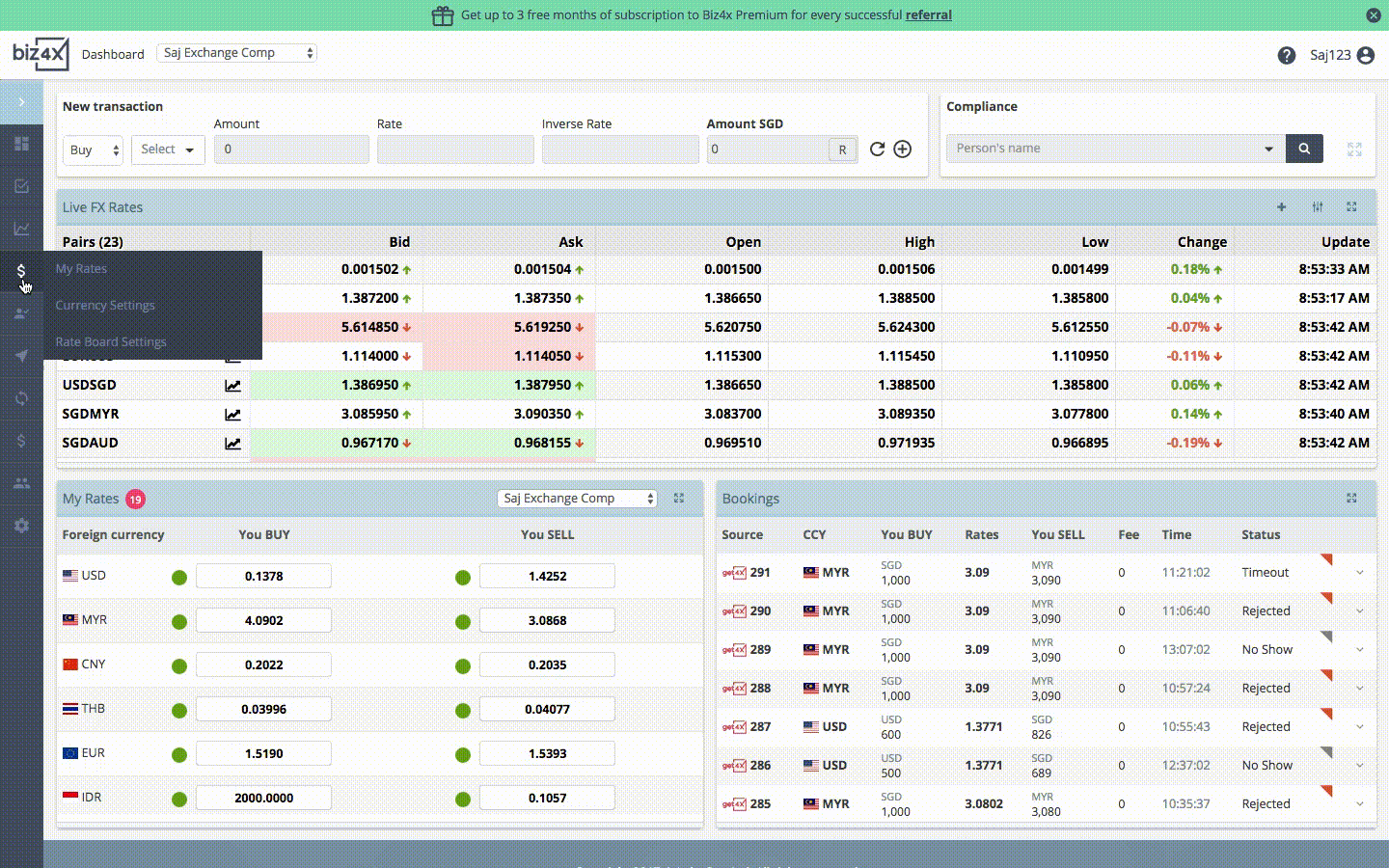 Rate Board
Anyone in the business of buying and selling currencies, will recognise the importance of displaying accurate and up-to-date information about Buy and Sell rates to their customers and employees. Biz4x now provides a convenient and ideal solution, where you can set up your currencies once, and display these rates on a board that can be projected onto an external screen for internal or external reference at different outlets. Create and update your rates through a template that can be customized to your business preferences.
1. Rate Board(s) list screen
The Your Rates option in the menu bar now includes a sub menu, "Rate Board Settings". Select this option, and you will be taken to a screen where you can manage all your rate board templates. If you have multiple outlets, you will be able to review all the different rate boards that are assigned to different outlets, and their individual customized settings. (eg: Outlet 1 - Rate Board Landscape View, Outlet 2 - Rate Board Portrait View).
2. Rate Board Settings screen
To set up your rate board, choose between a portrait or landscape view for the template. Customise the following details according to your business preferences:
Header

Company name
Date format
Date position
Time position
Time format
Background colour
Font colour

Rate Board Table

Number of rows
Background colour
Name of columns

Footer

Display a disclaimer or customized message eg. "Kindly check your transactions before leaving the counter. We will not entertain any complaints or discrepancies thereafter."
Name your rate board and save your template. Please note that all rates that are marked as live rates in the Your Rates section will be reflected on the Rate Board too.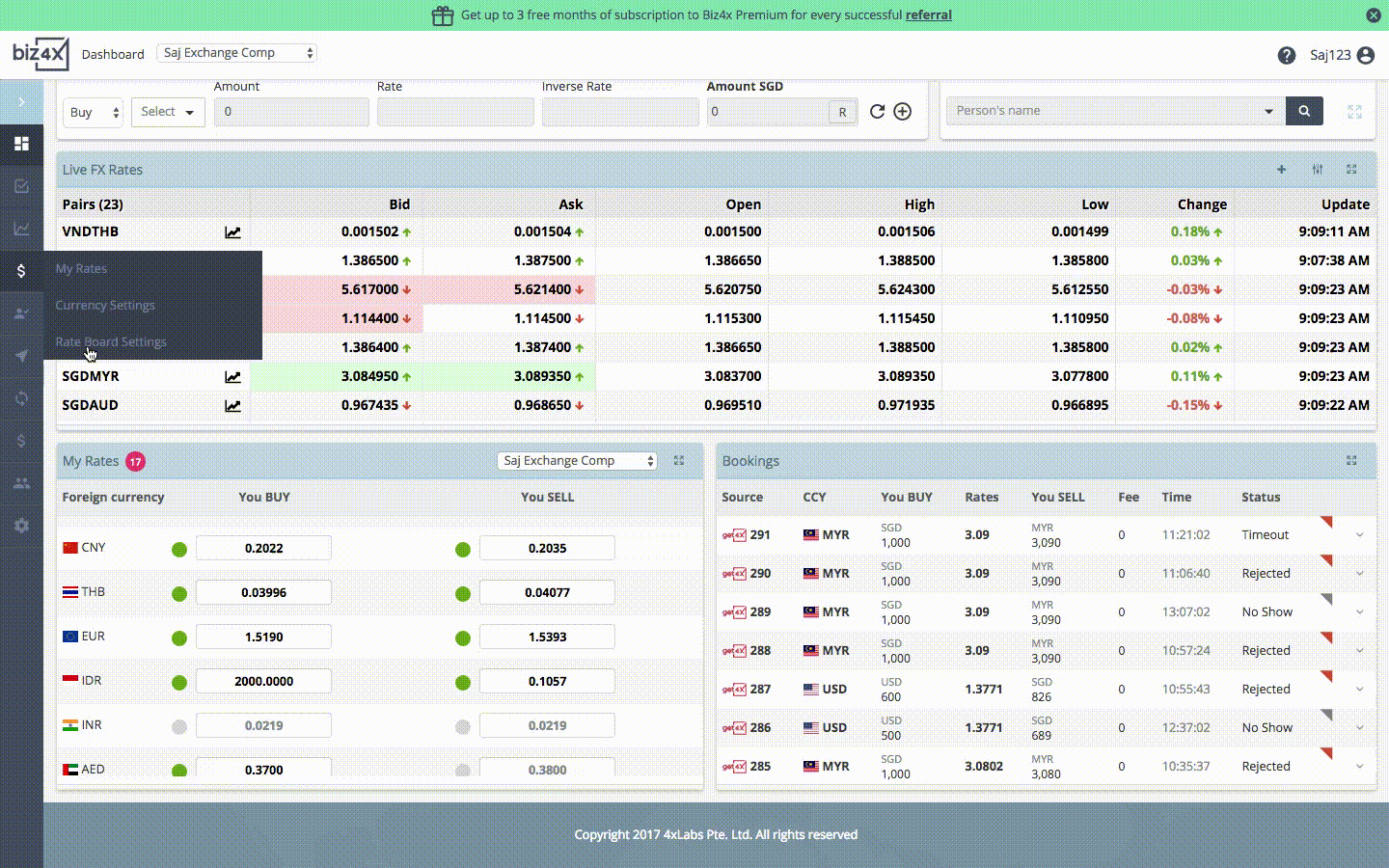 3. Rate Board display
Assign your rate board to a single or various outlets. Before projecting it on a separate screen, you can preview it to see if any adjustments need to be made before it is publicly displayed.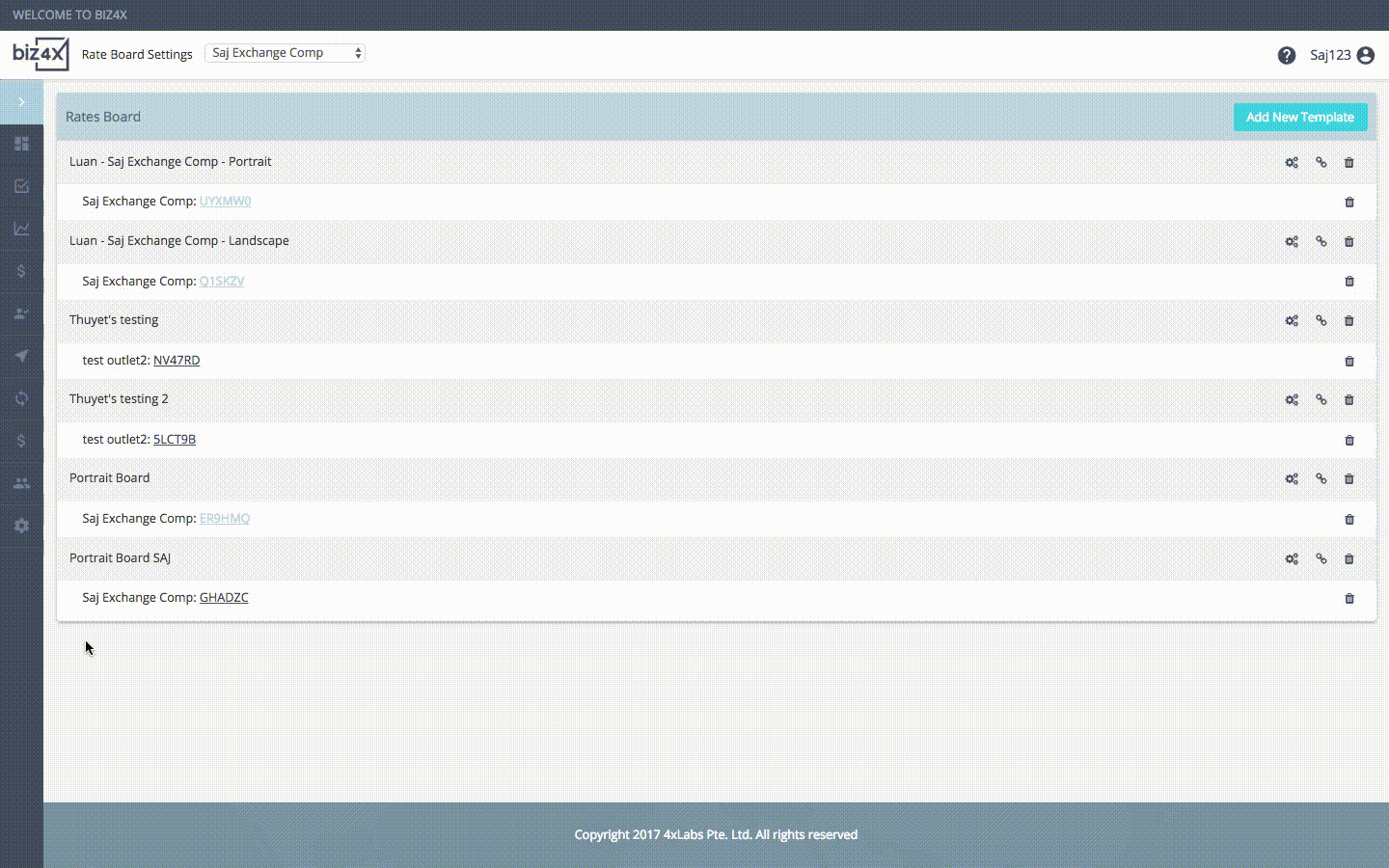 UX Improvements
1. Your Rates display
The same layout has been applied to the dashboard and dedicated Your Rates screen for greater consistency.
2. Customer filtering
From the Customers dedicated screen, a new option to filter customers by the following criteria is now available:
- First Name
- Last Name
- Nationality
- Customer group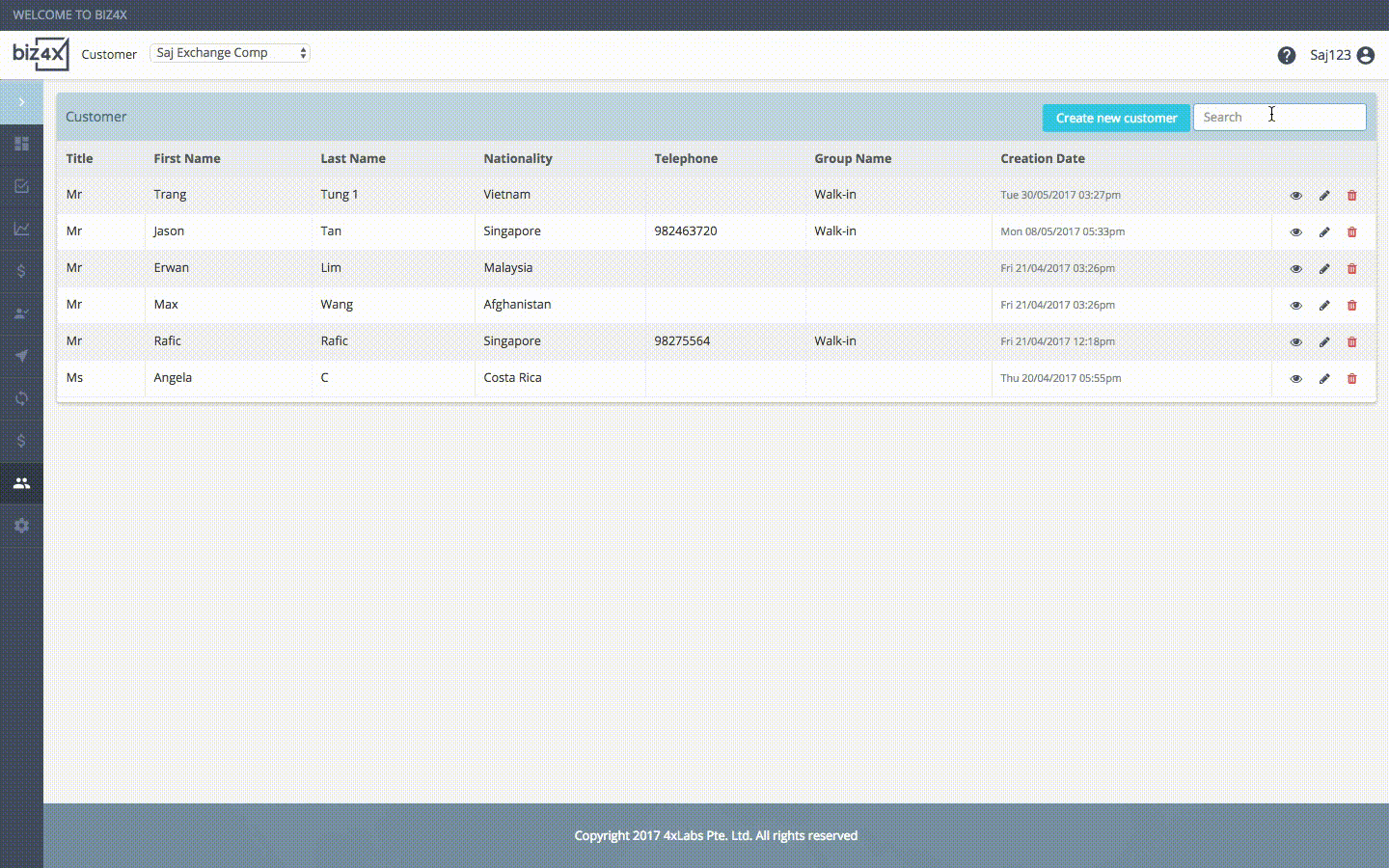 That's it for this release, and as always please reach out to us with any comments or suggestions at feedback@biz4x.com! We look forward to hearing from you.

Join Biz4x to start growing your business
Sign up for a free trial today!