RESOURCES
News
Find out about our latest product updates as well as trending topics in the business world
23 October 2017
Biz4x Release Version 1.13: New Options for Transaction Settings and a New Regulatory Report
The newly released version of Biz4x demonstrates our continued commitment to providing incremental upgrades to existing features, so you can better customise the platform for use in your country. This week, we've rolled out more improvements to Business Management with additional options when recording transactions, and one new regulatory report.
New Transaction Settings
Enhanced Due Diligence
Under Settings for Transactions, we have made it possible to enforce additional measures for customer due diligence if the amount of currency exchanged is beyond a certain amount. Decide on this trigger amount, which will be based on your local currency. Every time an amount equivalent to or larger than this trigger amount is set, you can make it compulsory for the tellers to ask for additional information such as:
- Customer details
- Purpose of transaction
- Source of funds
Transaction Cap Amount
The transaction cap amount is the maximum amount in local currency that you can record in a single transaction. If you do not want to set a limit, just enter 0 in that field.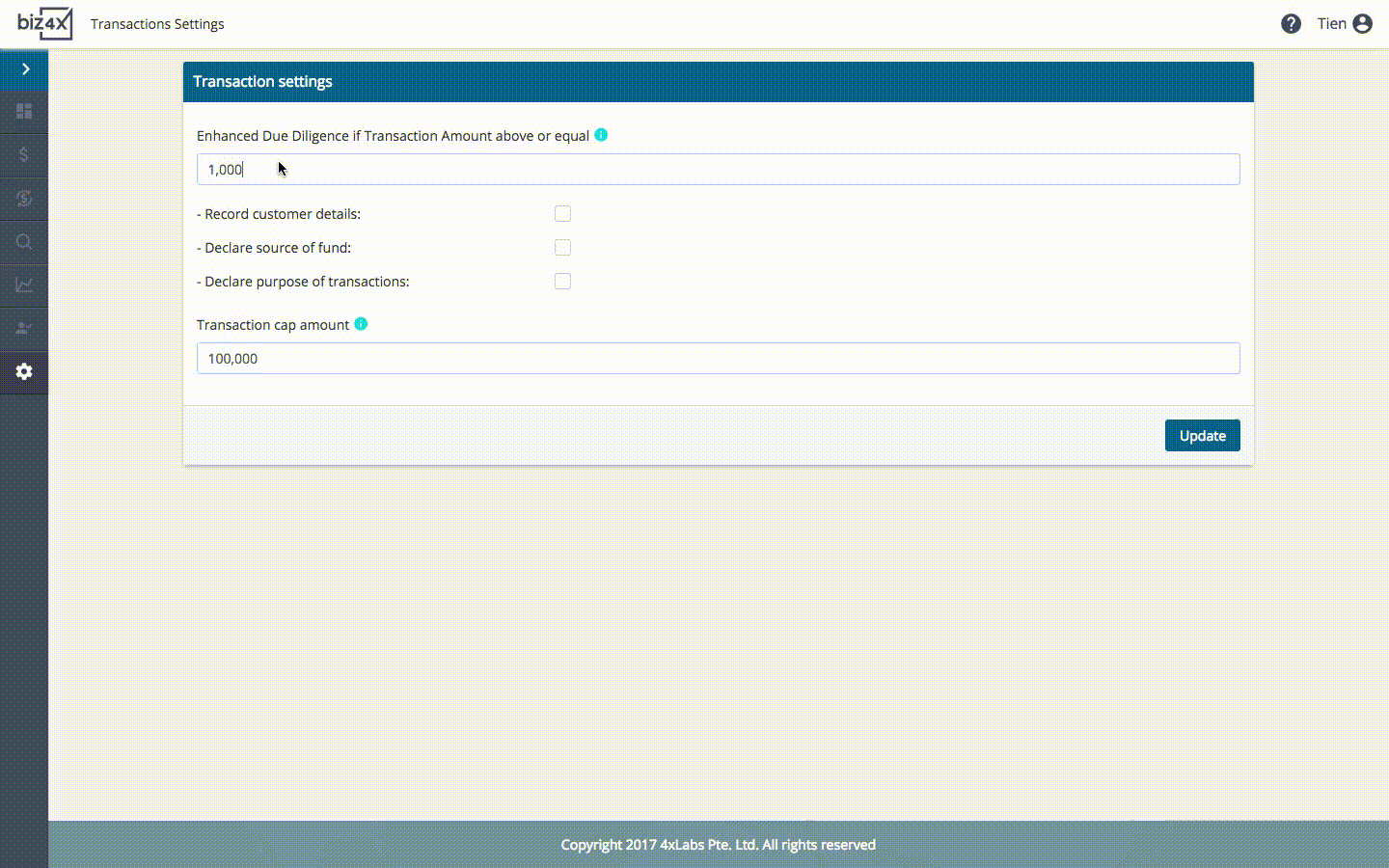 New Transaction Fields
Add more information to each transaction that you record.
Remark
Add some notes to accompany the transaction you are recording. This is an optional field.
Purpose and source of funds
If you have enabled these two options under Transaction Settings when a trigger amount is being recorded, you will be required to select the purpose and source of funds from a dropdown list of options. This may be mandatory information that needs to be recorded in some countries.
We are working on allowing you to create your own customisable options in the dropdown list for Purpose and Source of funds, so stay tuned for more news on this feature.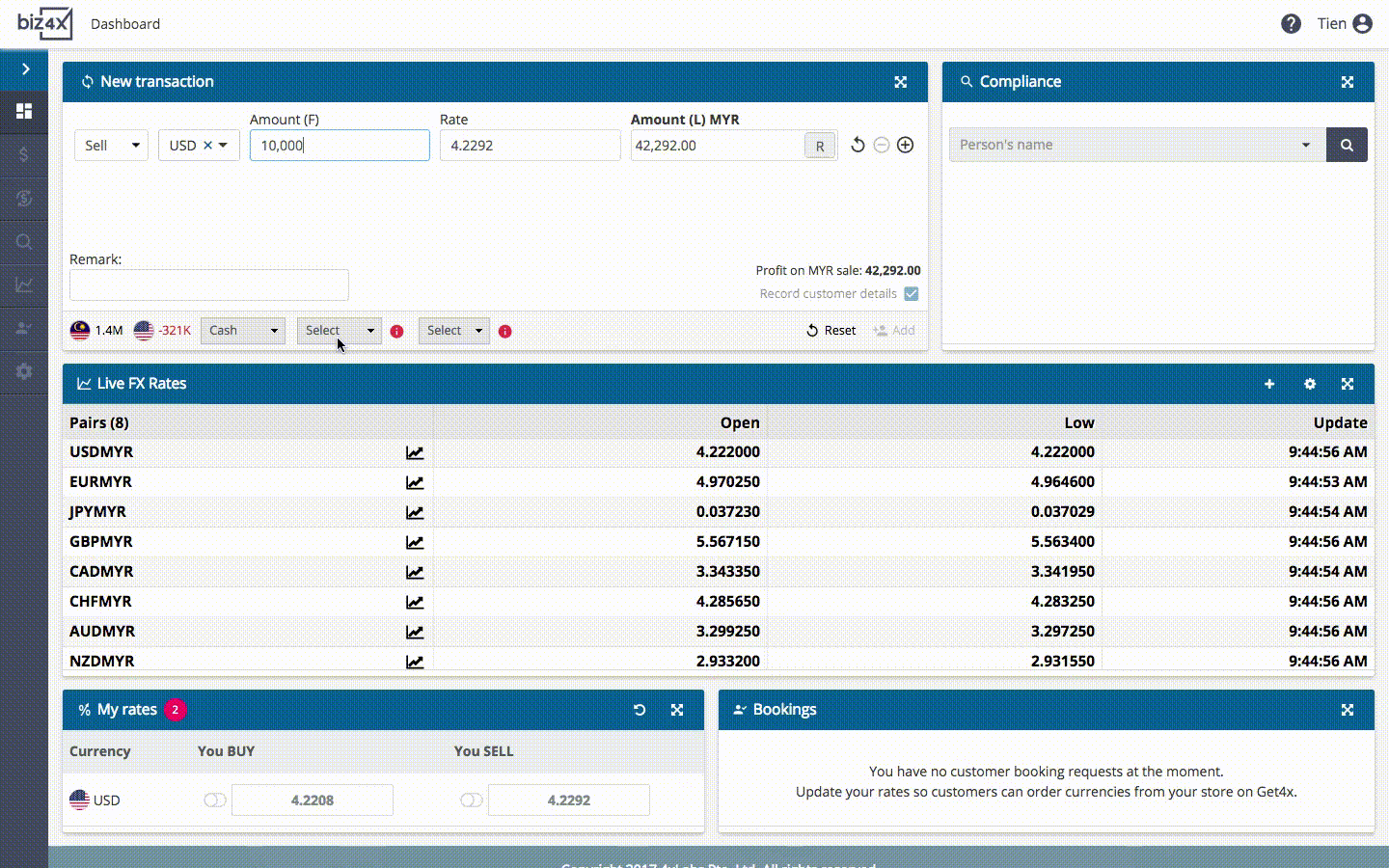 New Regulatory Report
Money services businesses in Malaysia now have yet another report that can be exported for submission to the regulatory authorities. Version 1.13 of Biz4x allows you to create and export the new Line by Line report. The Line by Line report provides a monthly statistical breakdown of transactions that consists of the following information:
- Money Changer alpha code
- Outlet ID
- Company name or Customer name
- Company registration number or Customer ID number
- Registration date or Customer date of birth
- Company or Customer country code
- Company or Customer address with phone number
- Customer occupation
- Customer type
- Transaction number
- Transaction date
- Transaction type
- Transaction foreign currency
- Transaction foreign amount
- Transaction rate
- Transaction local amount
- Purpose of transaction
- Source of fund
- Remark
The new Line By Line report joins the growing list of regulatory reports we have already created for the money services businesses in Malaysia, which also includes: MSB02, MSB03 and MSB4A. These regulatory reports are only specific to Malaysia businesses, hence you will not see them if your business is based in another country. As with the other reports, you can view a history of previously exported reports under Reports history. In Singapore, we have created the MAS Notice 3003 Quarterly Returns report, while businesses from any part of the world can access management reports such as Transactions, Stock, and Profit and Loss.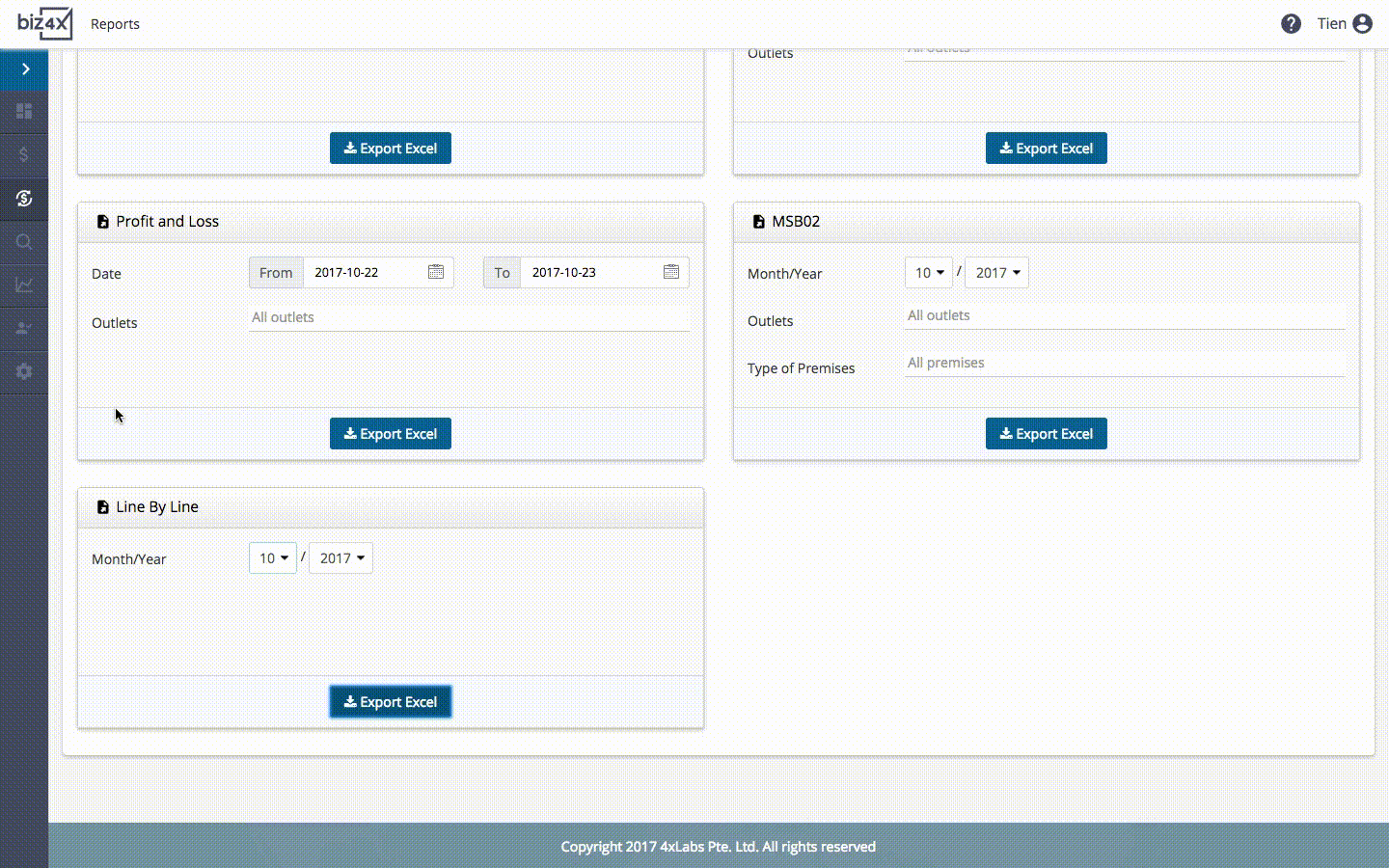 Want a local regulatory report that is not yet available in Biz4x? Simply drop us a note with an attached sample report at support@biz4x.com. Thank you for being a loyal Biz4x customer and we hope you enjoy these new improvements in Biz4x version 1.13!

Join Biz4x to start growing your business
Sign up for a free trial today!