RESOURCES
News
Find out about our latest product updates as well as trending topics in the business world
10 February 2018
Biz4x Release Version 2.0: Introducing Biz4x Marketplace - An Online Wholesale Marketplace for Bank Notes
We are extremely excited today to launch Biz4x 2.0, a major step forward in the realisation of our vision for the money services businesses industry.
Having focused on improving key system functionalities required by money service businesses on a day-to-day basis in our past releases, Biz4x 2.0 introduces an all-new, streamlined and efficient way for money services businesses to engage in a business activity that is core to their operations - wholesale banknotes trading.
Version 2.0 introduces Biz4x Marketplace, which is an online trading platform for the buying and selling of physical currencies. It is based off a semi-anonymous, multi-counterparty Request for Quote (RFQ) model. With Biz4x Marketplace, you can trade with wholesalers or fellow money services businesses, either locally or internationally. In addition, the system provides a fully audited transaction history for submission to regulators and auditors, when necessary.
While any wholesale purchase or sale of bank notes might have taken place previously via the phone or online chat among a known group of suppliers and purchasers, such trading limits you to this small group of traders and opportunities. The Biz4x Marketplace extends your reach and business network by connecting you to an entire community of bank note traders, so you can always tap on new opportunities and negotiate better deals.
How It Works
1. Creating a RFQ
The Biz4x Marketplace works by listing requests for quotes posted by money services businesses looking to buy and sell currencies. In a typical scenario, there is a sender of the quote and the receiver. A receiver would only see a quote if their settings and business parameters match those of the senders, who state their various preferences during the listing. A sender of a quote could be a money services business or a wholesaler. There are a number of factors that one will need to specify when putting together a quote. These include:
- Type of currency
- Indication of interest to buy or sell currencies
- Amount of currency requested
- Denomination (large or small)
- Quality (Fine or uncirculated)
- Payment terms (cash or bank transfer, payment versus payment (PvP) where exchange of currencies happens simultaneously or non-PvP where the exchange may happen at different times)
- Delivery terms (whether the delivery of bank notes is made by you or the counterparty, date, delivery time frame)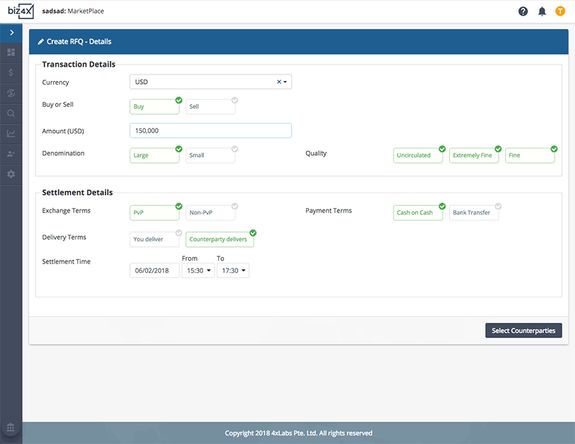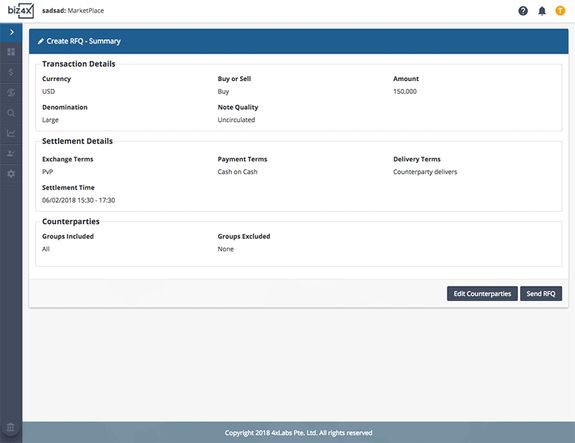 Once the sender has selected all their options, they can then go ahead to edit the counterparties the quote will be sent to, or confirm the sending of the RFQ. The options are not necessarily exclusive.
2. Creating Groups
We understand that you may have specific requirements when it comes to trading partners, and that's why we have made it possible to create different groups of money services businesses on the Biz4x marketplace. The identities of all counterparties are annoymized on the platform, so that has no to little bearing on the quote that is posted or the rate being offered. The identity of the partner you are trading with will only be revealed when you have confirmed acceptance of the terms of the trade. By including or excluding groups of money services businesses your quote goes out to, you will ensure that you only end up doing business with the counterparties or groups of counterparties you have curated.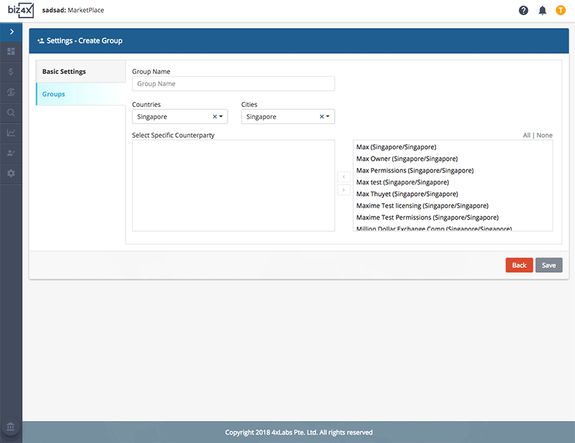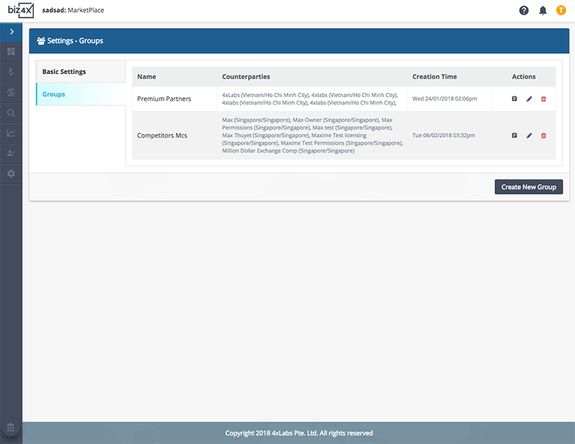 3. Responding to Quotes
If a receiver's settings and parameters match those of a sender, the receiver will see the RFQ immediately when it has been sent. Receivers will have 10 minutes to respond to an RFQ, after which it will expire. To respond to an RFQ, the receiver needs to provide the rate at which he wants to conduct the trade, as well as indicate the duration of its validity, 10 seconds, 1 minute, 2 minutes or 5 minutes.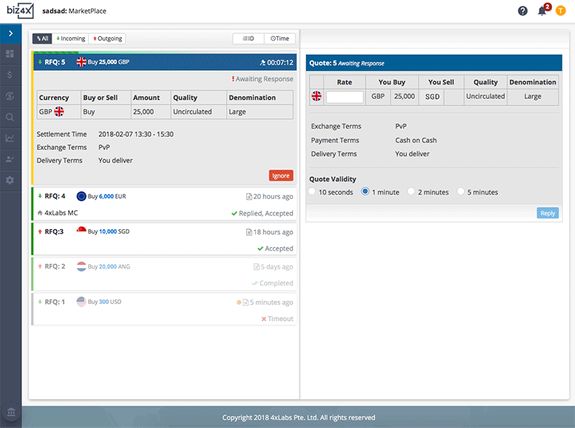 In the event that the quote has expired after 10 minutes, the receiver can still provide a quote, however the sender will then have to confirm that they are still accepting quotes. Once a quote has been provided, the sender will then have to accept the quote(s) within the time specified. However, if the quote has timed out, the sender can still respond to the quote by asking for a confirmation that the rate is still valid. An accepted quote can be cancelled, however, both parties must come to an agreement before the cancellation is accepted in the system.
In the event where no one responds to the quote after 10 minutes, the quote is considered rejected and the sender is then informed. Quotes can also be cancelled by senders if they are still active and no one has responded to them.
4. Completing the Transaction
The actual transaction or exchange of currencies takes place off the platform in the real world. Once the exchange is completed, either party can mark the transaction as completed. Both parties will have to indicate that the transaction has been completed before it is marked as such.
Biz4x 2.0 is the culmination of our year of continuous development in 2017, and represents a huge step forward when it comes to the digitization and optimisation of processes in the money services business industry. Looking forward to try your hand at trading in the Biz4x marketplace? Get in touch with your account manager, or through support@biz4x.com and we'll activate your access to the Biz4x Marketplace so you can start doing business on your terms with our global community of money services business immediately!

Join Biz4x to start growing your business
Sign up for a free trial today!