RESOURCES
News
Find out about our latest product updates as well as trending topics in the business world
09 May 2017
Product Update Version 1.5 - Record Customer Details for All Transactions and Multi-Outlet Management
Biz4x version 1.5 brings to the table several often requested features in Business Management, as well as a number of tweaks to enhance the ease of use when it comes to Your Rates and Live FX Rates. Here is what's new in our latest release:
Record Customer Details
Create A New Customer Record
The ability to record details about your customers is essential in every well-rounded point-of-sale system. Biz4x v1.5 provides you with this exact feature - now, you can record customer details as you are keying in transaction amounts for buying and selling currency, either in the transactions segment of the main dashboard, or the dedicated transaction screen. Create a new customer record for each transaction and fill in the following details:
First Name
Last Name
Date of Birth
Country
Nationality
Customer Group
Gender
Address
Passport

Number
Date of Issue
Date of Expiry

Email
Phone
Additional Comments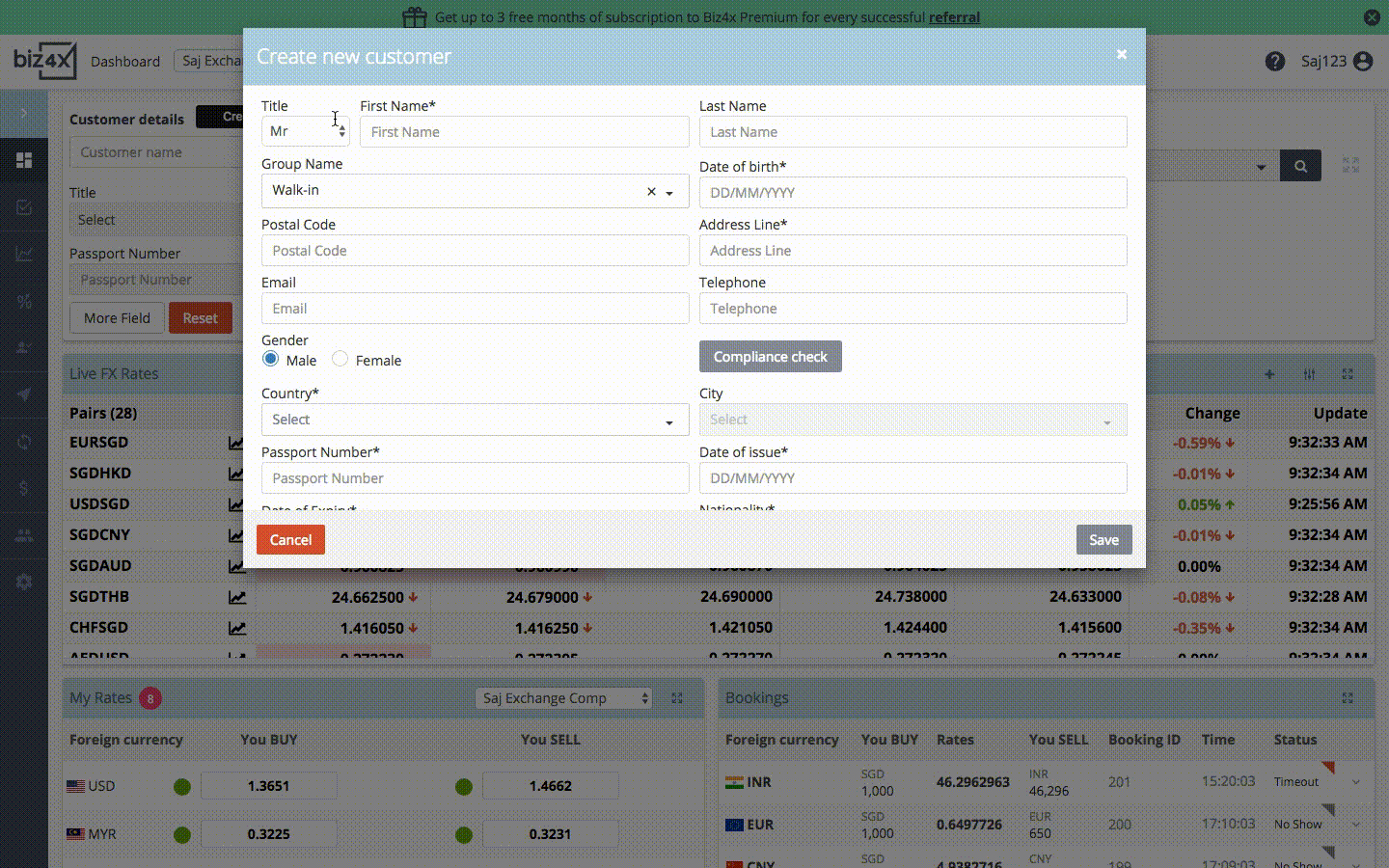 Getting to know your regular customer profile better can help you to make pricing decisions to optimize your supply of currencies and profits.
Existing Customers
As with all businesses, you will certainly have some recurring customers who are loyal to your business or perhaps live and work in the vicinity. Instead of creating a new customer record every time a regular customer purchases or sells currencies to you, Biz4x v1.5 allows you to search through previous customer records and attach these customer details to a record for greater convenience.
Know Your Customer Compliance Check
Notice that a customer keeps coming back repeatedly with huge amounts of currencies to exchange? Perhaps that might set off warning bells in your head - could this be a suspicious individual that is involved in money laundering or terrorism? Don't put your business at risk. Avoid any legal liability by making sure you Know Your Customer. As you input customer details for transactions, you can click on the Check Compliance feature to run these customer details through our compliance database to ensure that they are not flagged on any AML, CFT, sanctions or PEP lists. The results will open in separate pop-up window: No result means your customer is not listed in the database, in which case you can proceed with the transaction with greater peace of mind.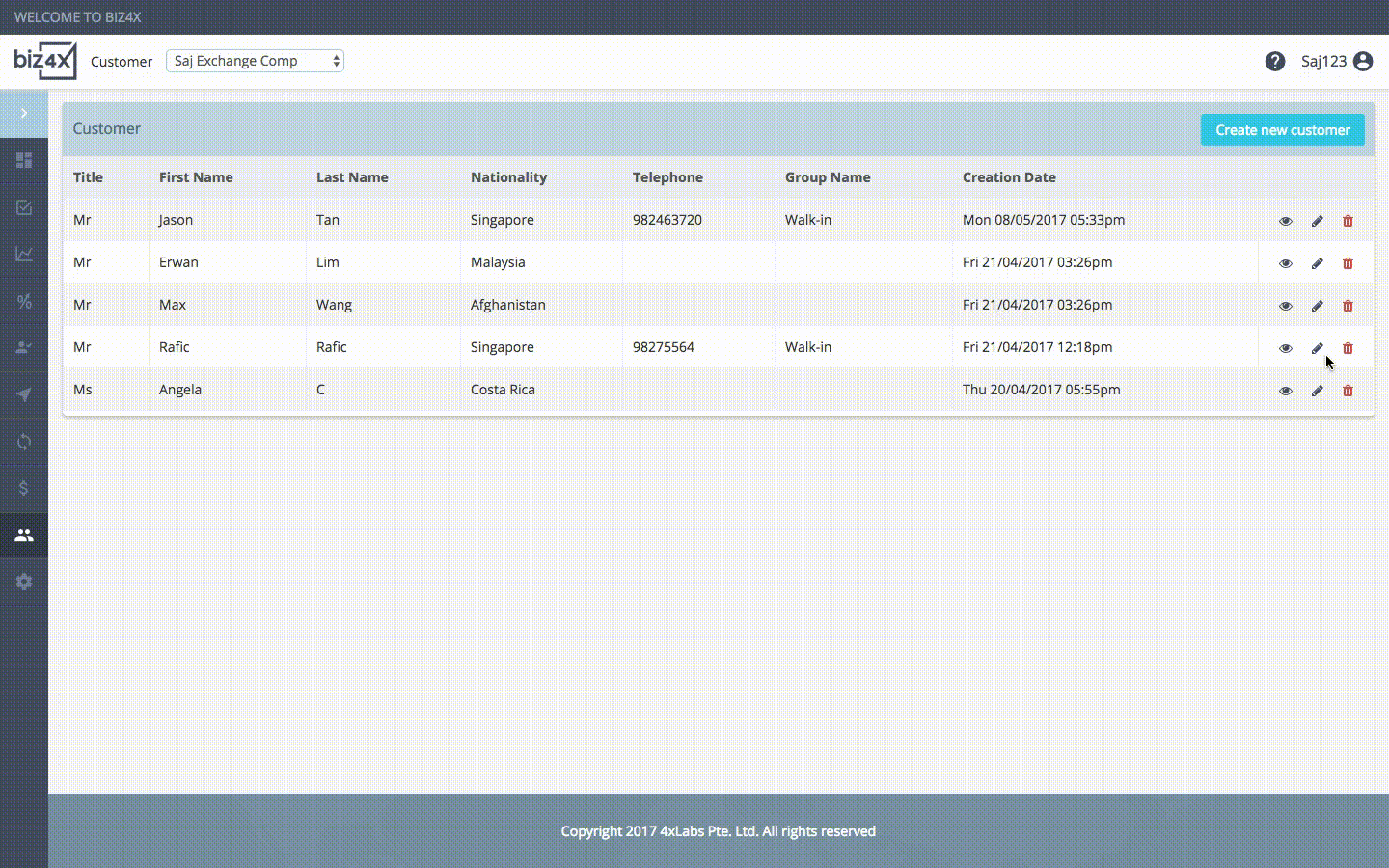 KYC Trigger Amount
On the left menu bar, you will see a Transactions Settings screen. Click on Edit within the Transactions Setting dedicated screen and you will be able to set the trigger amount that would necessitate a Know Your Customer compliance screen. This amount would be specified in local currency. For example, if you were in Singapore, you might set SGD5,000 as the threshold for a compliance check, while in Malaysia the Local Transaction Max Amount might be MYR3,000. This feature is helpful if you have a few employees in different outlets and might not be able to personally supervise every transaction. With this feature, tellers would have to record customer details for transactions above the Local Transaction Max Amount you have specified. They will see a "Customer Details" box that has been checked off that will alert them to the need of attaching customer details to a high value transaction.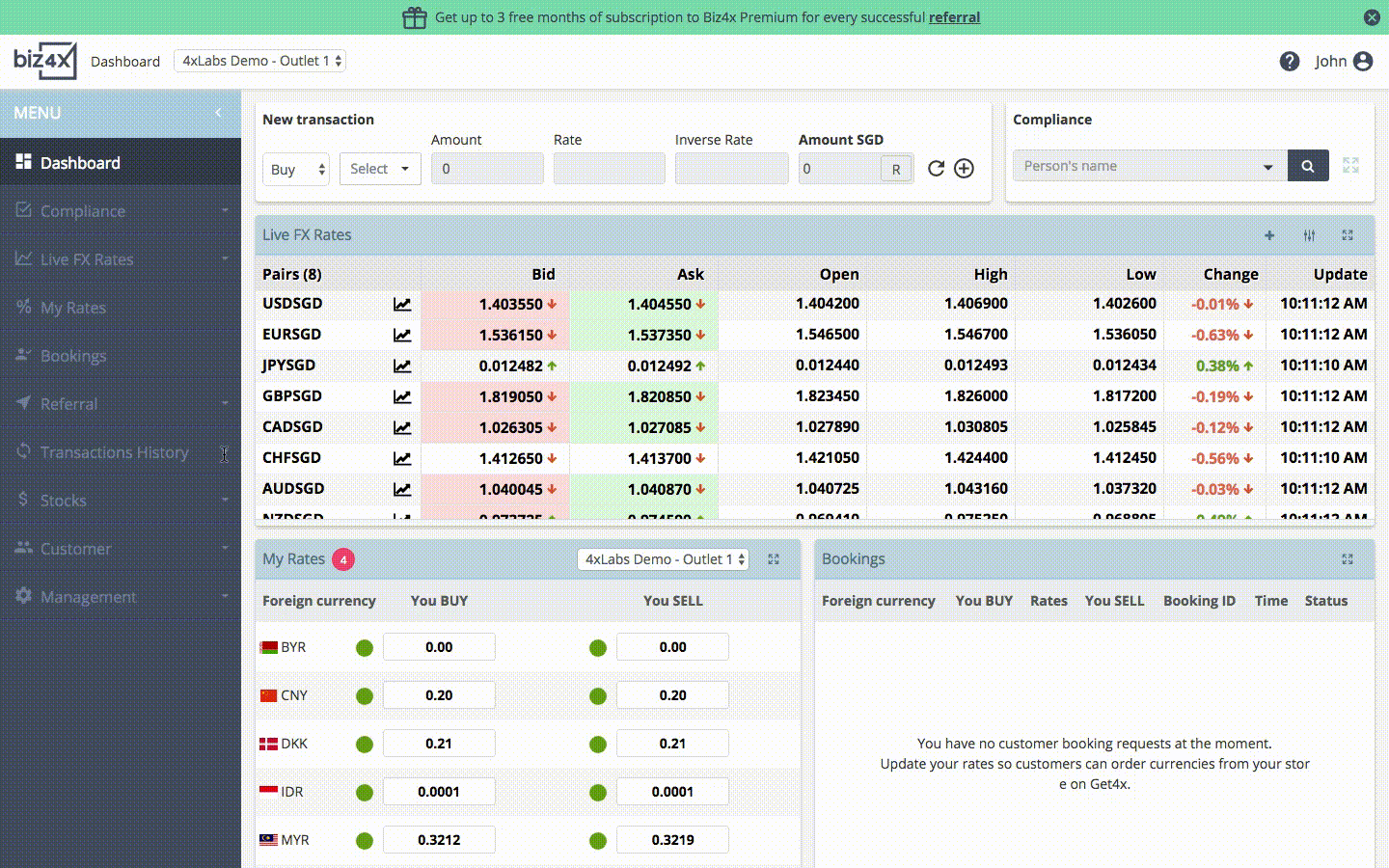 Customer Groups
Your business may see many different types of customers from individuals to corporates. Biz4x v1.5 allows you to segment and group customers accordingly eg. Walk-ins, Money Changers, Banks, On Behalf Of, Wholesaler, Corporates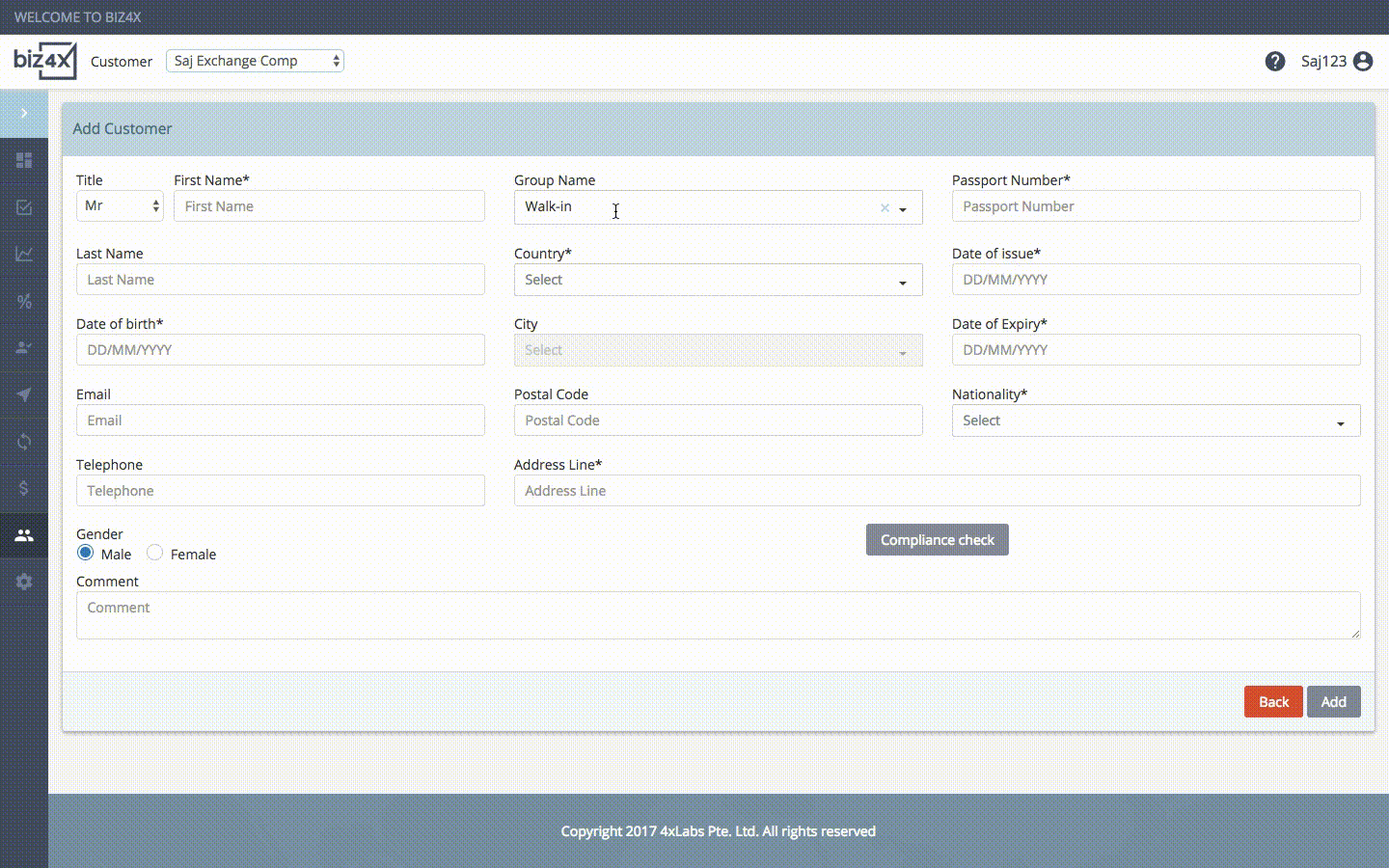 When dealing with institutions (Money Changers, Bank, Wholesaler, Corporate) rather than individuals, Biz4x displays an additional three fields:
Company
Registration No
Occupation
Aside from the default groups, Biz4x allows you to create your own customer groups and segment your customers according to your business requirements.
Multi-outlet Management
You can now create multiple outlets, group them and set different rates for these outlets. For example, your business hierarchy could look something like this:
ABC Money Changer HQ
ABC Money Changer - Outlet 1
ABC Money Changer - Group 1

ABC Money Changer - Outlet 2
ABC Money Changer - Outlet 3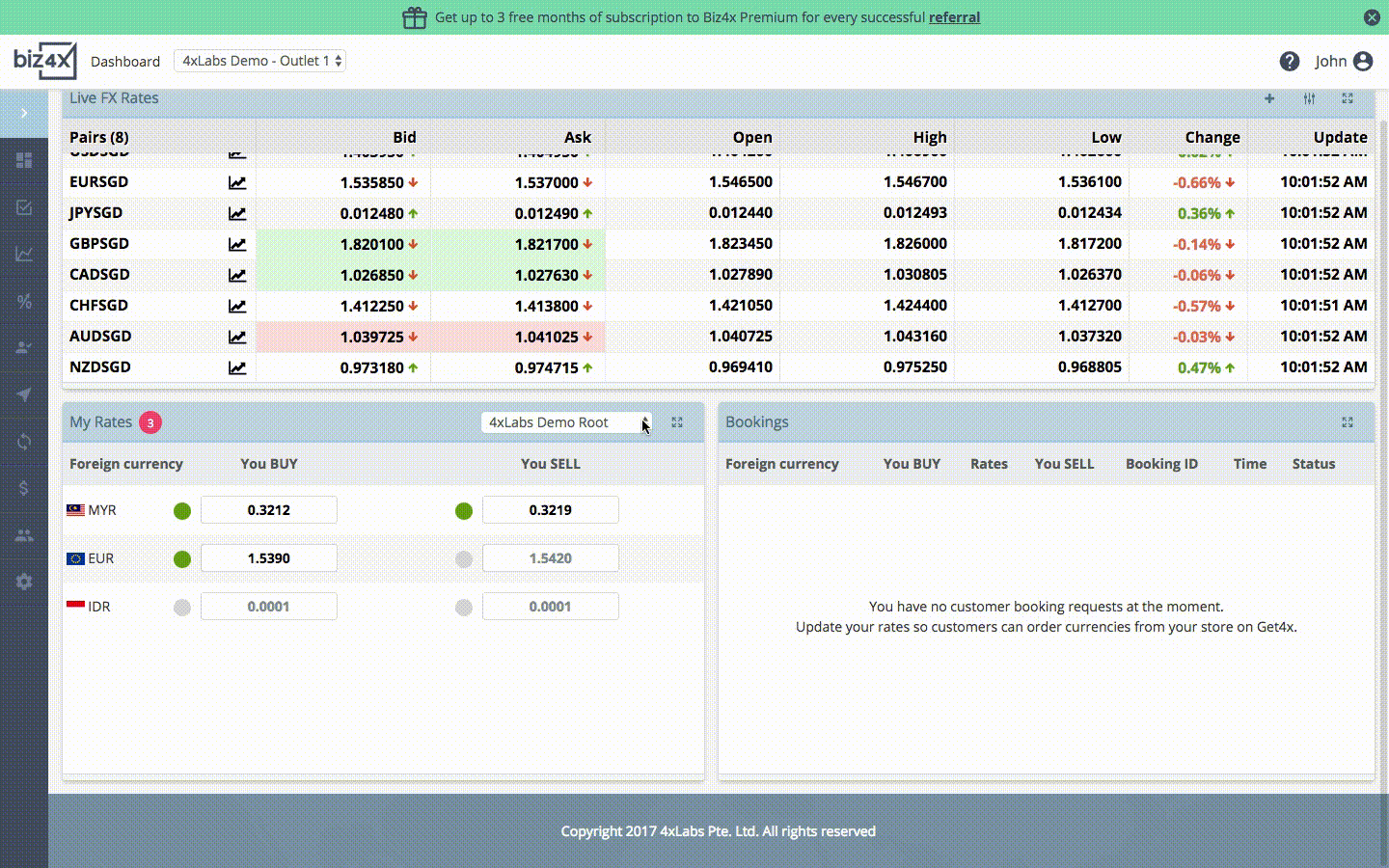 Biz4x allows you to set up your business outlets as you see fit, which mirrors a real world situation where a money service business might have multiple outlets.
Your Rates UX Improvements
Following feedback from our users, we have made it much easier to enter your rates through the main dashboard, and have them displayed on Get4x.
By referring to the red notification in header, you can view the number of indicative rates you need to update when your outlet opens, at a single glance.
We have simplified the status of your BUY and SELL rates for each currency that is set up on Your Rates:
Green - Live rate
Grey - Indicative rate
Hover over these coloured status updates and we display the following key information:
Rate status (Live or Indicative)
Rate displayed on Get4x (Enabled or Disabled)
Margin set
Exact time of update
Staff member who last updated the rate
For each rate, we've implemented a few shortcuts so you can quickly edit rates. To switch from one rate to another, simply press TAB from your keyboard to move from one field to another - this will automatically save your updated rate as well.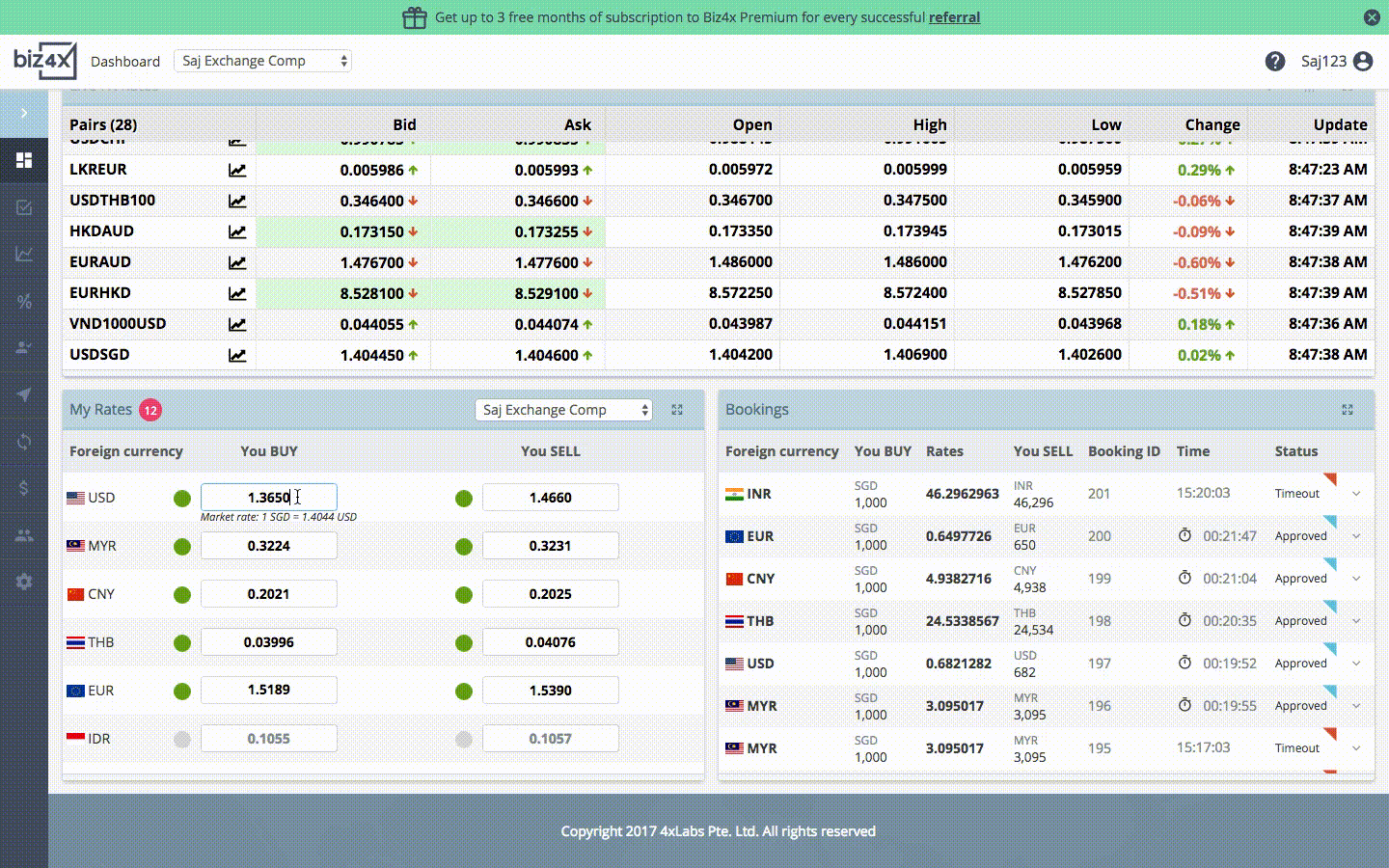 Biz4x also detects if there is an issue with the rates that have been set (BUY > SELL, BUY > Market rate) and displays a warning notification to help you correct your rates and maintain accurate data.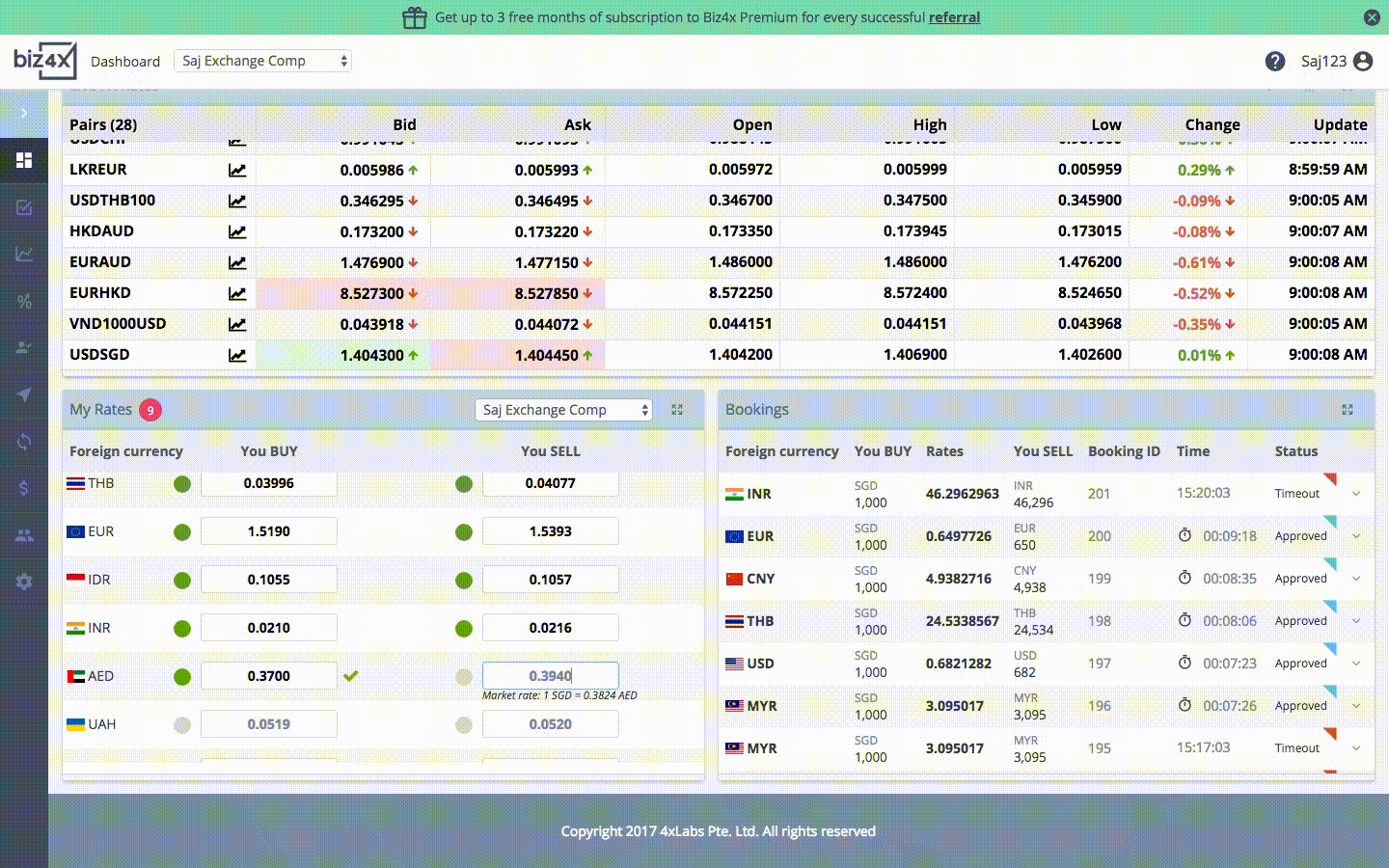 Advanced configuration options can still be accessed from the dedicated Your Rates screen, where you can set rates by percentages, customise decimal places or opt for inverse rates.
The Your Rates work hand-in-hand with multi-outlet rate settings so different outlets could have different Buy and Sell rates set up.
Live FX Rates UI Improvements
As per many of your requests, we have changed the colours on the Live FX rates to a lighter shade of red and green, for each rate update, so it is more soothing and conducive to the eye for our users who spend much of the day referring to the screen. The green/red colours have been applied to the column "Change" and green/red arrows have been added for the following columns: BUY, SELL, Bid, Ask, Mid, Change to indicate the market trend.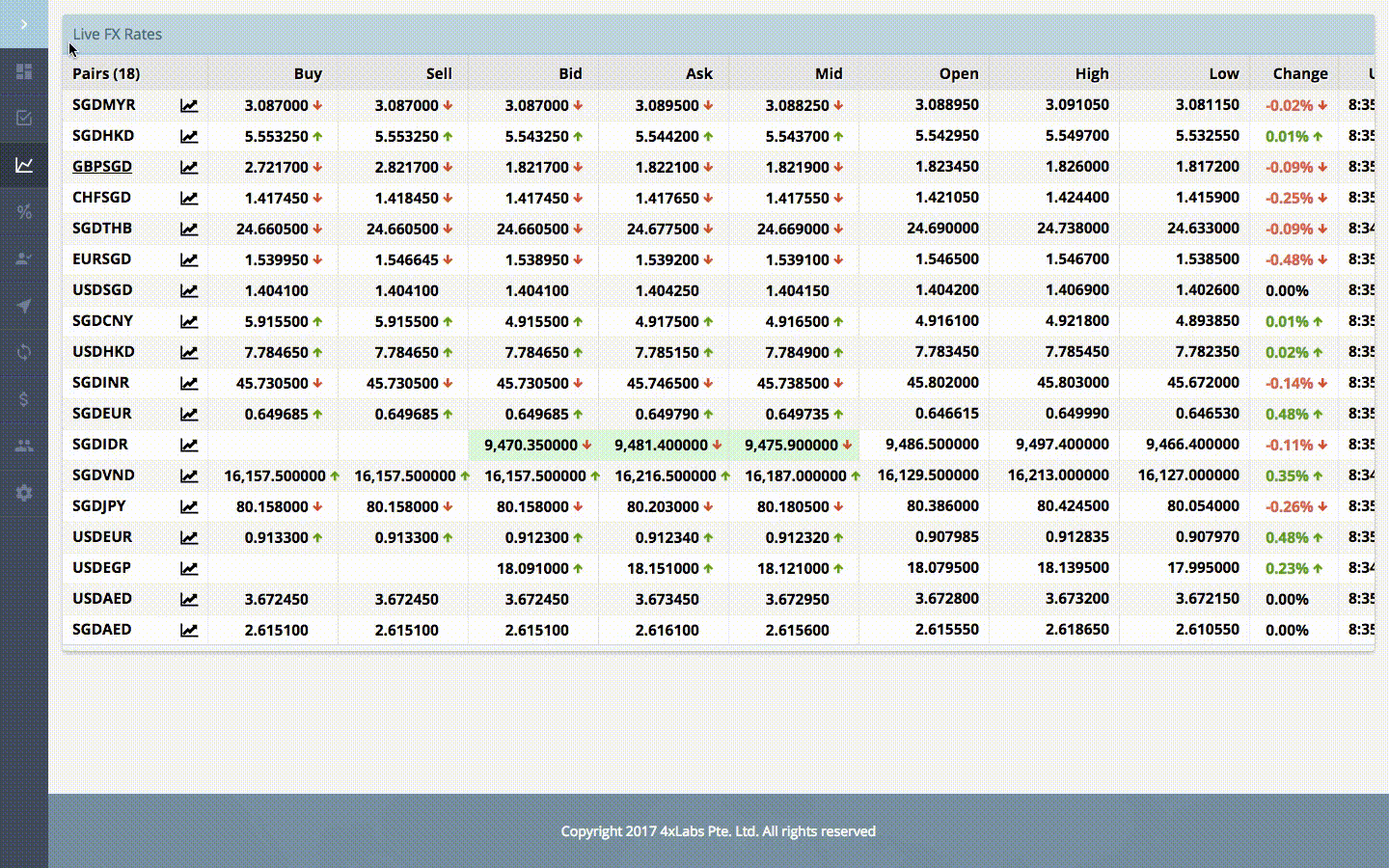 To summarise, Biz4x v1.5 provides new features: Customer Details, Multi-Outlet Management as well as UI and UX enhancements for Your Rates and Live FX Rates. We hope you enjoy the improvements and look forward to bringing you more updates for the next release. Kindly send all comments to feedback@biz4x.com.

Join Biz4x to start growing your business
Sign up for a free trial today!