RESOURCES
News
Find out about our latest product updates as well as trending topics in the business world
28 February 2017
Product Update Version 1.3: Record Customer Transactions & Extend Your Premium Subscription When You Refer a New Money Changer to Biz4x
Times flies, and once again it's time to announce our new updates for Biz4x! This week we'd like to highlight three main improvements to the platform that will certainly be good news to all users.
What's new?
- Record new customer transactions and access a complete history of all transactions
- Refer your friends and extend your Biz4x Premium subscription for up to three months
- Receive email notifications for important status updates in Biz4x
1. Business Management
Create a new transaction
We've always set our sights on Biz4x being a holistic and complete solution to meet all the business needs of money changers, no matter the size of the operations, and today, Biz4x is another step closer to achieving this goal. Through Biz4x, you can now record all your customer transactions right from the main dashboard. Here's how you can get started:
1. Select the transaction type (Buy or Sell) and theforeign currency for this transaction (all currencies you've added in 'Your Rates' will automatically be available for selection)
2. Input the amount of foreign currency you are either Buying or Selling (eg: 2,000 USD)
3. Click on the Record button to input and save the transaction amount in your system.
It's that simple.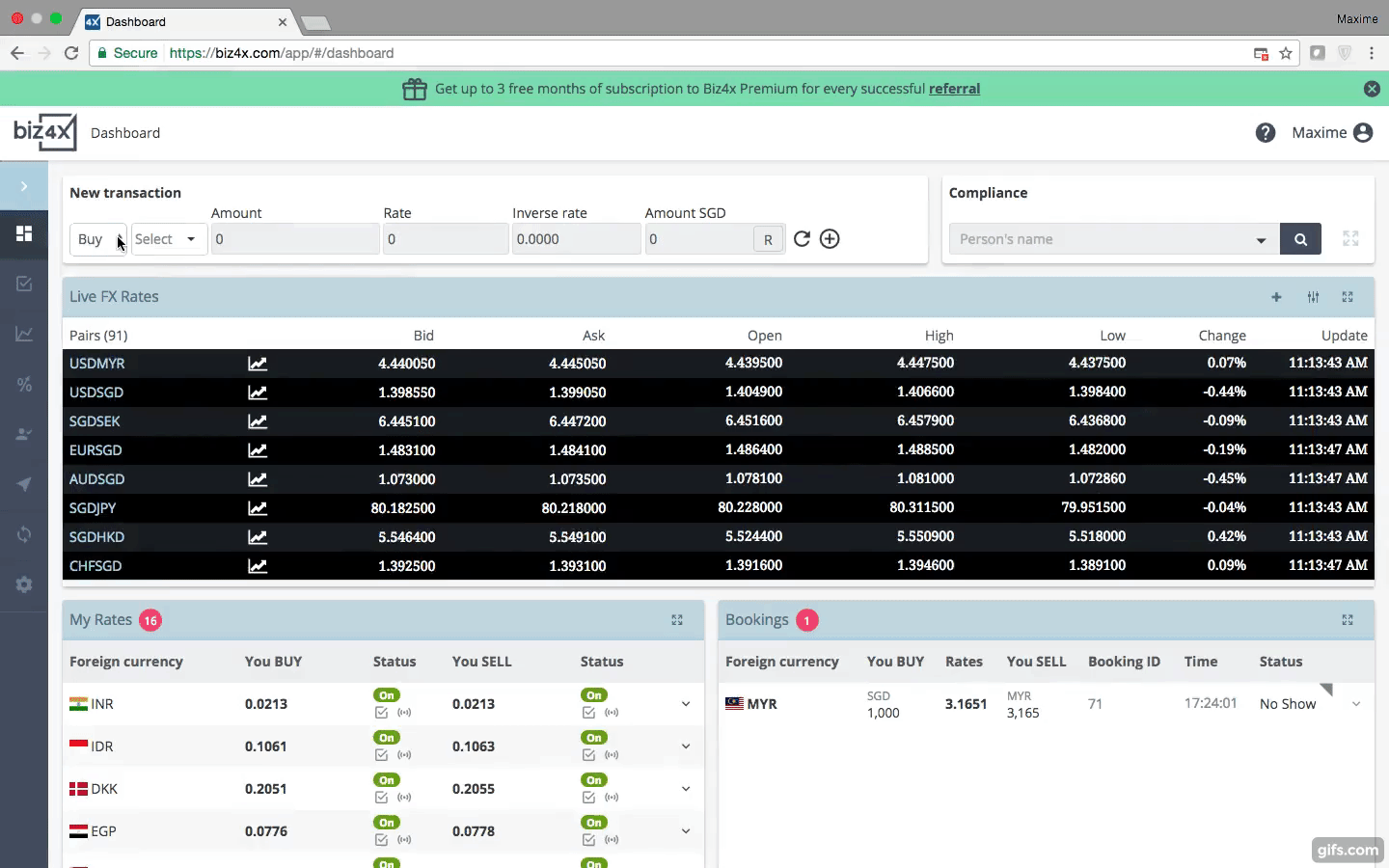 We also allow you to record multiple transactions at one go (eg: SELL 1,000 USD and SELL 2,000 CAD for a single customer). After you have entered the first transaction, simply click on the + button to add a second transaction.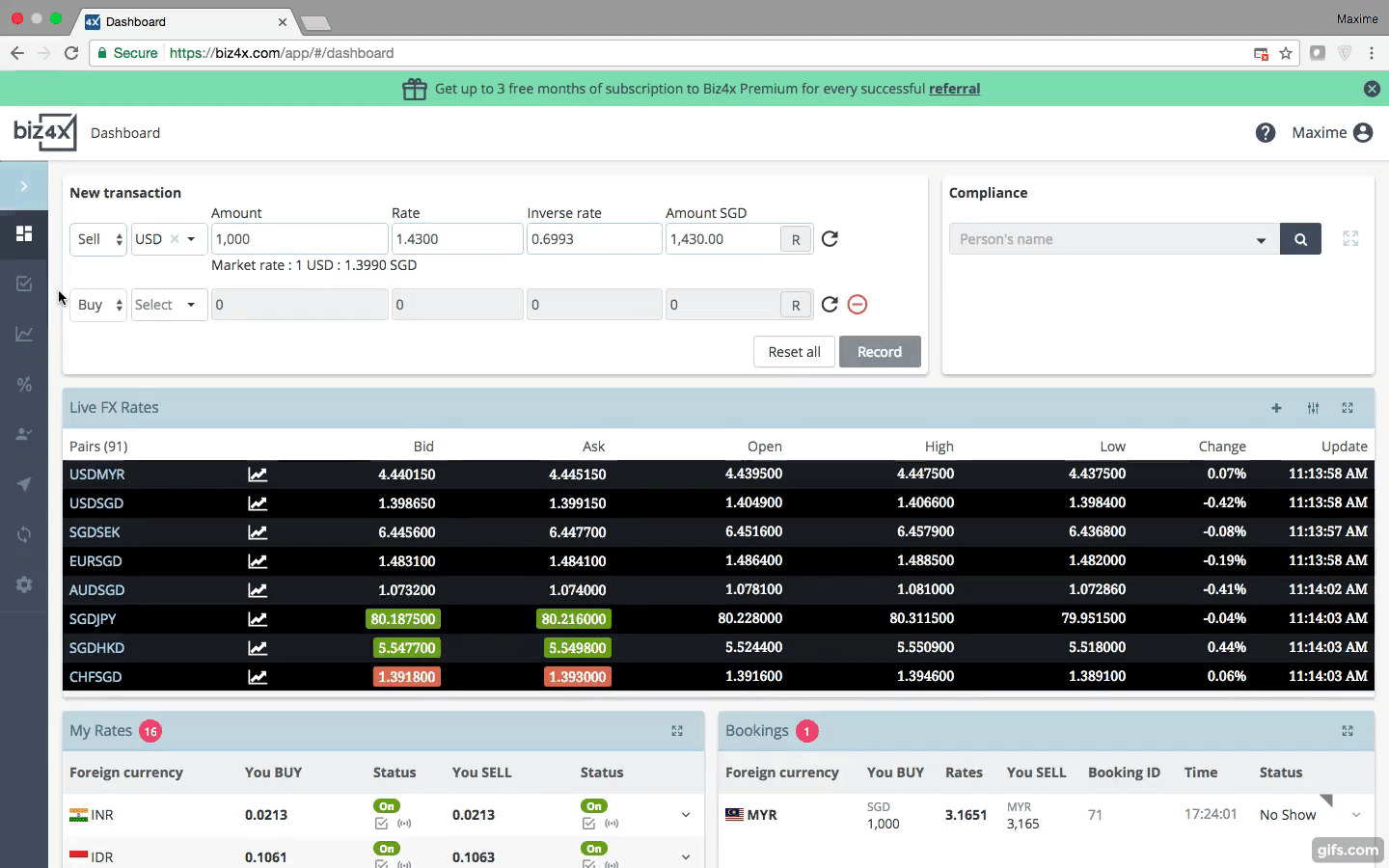 The following are a couple of points to note about the new Business Management feature.
Rates

By default, Biz4x auto-fills the last updated rate the user sets for foreign currencies in 'Your Rates'. Both the normal and inverse rates are displayed, however users are able to override any pre-existing rates for individual transactions as the rates may have changed since it was last updated.

Local Currency

The amount displayed in the local currency will equate to the amount of foreign currency customers will get from this transaction - this amount is tabulated with the exchange rate that was previously set. We allow users to round off and override the output amount to the closest denomination by clicking onR.

Shortcut Keys

As you may record large volumes of transactions per day, we've enabled a few shortcuts to make recording transactions easier and faster :

- Press Tab to switch swiftly from one field to another
- Press Enter to record one transaction and launch the printing preview for receipts
Transactions History
Access a full record of all your transactions from the side menu.
Once you have entered this dedicated screen, you can:
1. Create a new transaction
2. Rapidly locate a specific transaction through filtering by transaction ID, type or currency

3. Print a transaction by clicking on the printing icon
2. Referral
Biz4x now provides all users with a unique referral code that they can share with other money changers. The benefit? Users who successfully refer money changers to Biz4x can receive up to three months subscription to Biz4x Premium for free.
Any user that is referred will get a subscription to Biz4x Premium for one month when they successfully register and are approved for a Biz4x account. If the money changer you have referred eventually signs up for a paid Biz4x account, both of you will each receive three months of Biz4x Premium for free in total.
To start referring money changers in your network to Biz4x, navigate to the side menu bar. You will see a dedicated screen that explains the entire referral process. It is important to note that for a referral to be successful the person that is referred must be a money changer, and must not have previously signed up for Biz4x.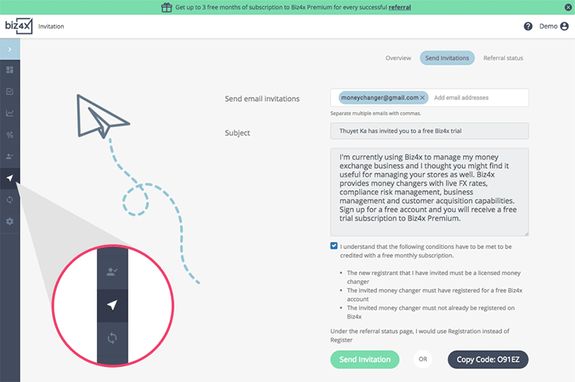 Once you have clicked on the button to refer a friend, you will see an option to either copy and share your unique referral code through other channels, or to enter the email of the person you are referring and send them this email through Biz4x.
Money changers who sign up with your referral code will be tracked in your dashboard and you can review the status of each referral as it progresses.
3. Email notifications
We've made it more convenient for Biz4x users to respond to new booking requests from potential customers - a minor but significant improvement. Now, when a customer sends you a request for a particular foreign currency, you will receive an email notifying you about this opportunity. Likewise, when a customer cancels their booking, you will receive an email informing you of their reasons for cancellation. Realising the potential of your business through Biz4x is easier than ever before.
As always, we've made a few improvements on the UI front with new options for font sizes, alignment and background colour of the live FX rates based on your feedback.
We welcome all feedback on our product, so do drop us a note at support@biz4x.com if you have any comments and we'll respond to you shortly!

Join Biz4x to start growing your business
Sign up for a free trial today!