RESOURCES
News
Find out about our latest product updates as well as trending topics in the business world
19 August 2018
Biz4x Release 2.8: Request Multiple Currencies in a Single RFQ on the Biz4x Marketplace
The process of creating one RFQ for each currency that you want to buy and sell on the Biz4x Marketplace can be laborious and onerous. Right from the beginning, the team had plans to support the ability to request for multiple currencies in a single RFQ. Today, we've made that available for all Marketplace users in Biz4x v2.8. You will also notice that the overall performance of the Marketplace is faster with this latest release.
Marketplace
Default Settings
Settings for the Marketplace have been split into Incoming and Outgoing Settings, each with its own screen and tab. On the Outgoing Settings screen, you can configure and save default settings that will be applied to all RFQs that you create. For example, if you set your bidding period to 15 minutes, all the new RFQs you create will start out with a 15-minute bidding period. This is to facilitate the speed and ease of creating RFQs.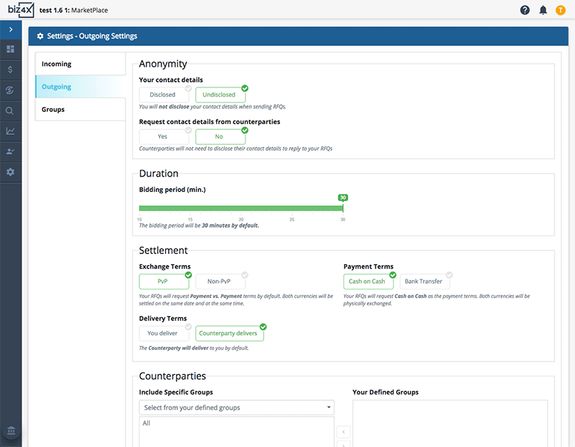 Not to fret though - if you need to adjust the bidding period and extend that to 30 minutes, you can still do so in the Create RFQ screen.
The Incoming settings that you configure will likewise be used to curate the RFQs you receive. (Pro tip: If you are not receiving any RFQs and you are wondering why, check your incoming settings! That just might do the trick.) Keep this in mind when you are creating RFQs as well, as only people with matching Incoming settings will receive your RFQs.
Multi-Currency RFQ
As you are creating an RFQ, you will see that your previous default settings in Outgoing Settings have been applied to this new RFQ. If you had earlier selected a 15-minute bidding period, that option will be reflected under Bidding Period.
You may also notice that there are additional tabs you can add under Transaction Details. Each tab indicates a currency that you want to include in your RFQ for buying or selling. Select a currency, choose whether you want to buy or sell it, and the mid-market rate will be pre-filled under Requested Rate. However, you can choose to edit this Requested Rate as well. You can add as many currencies as you wish within a single RFQ. This will save you some time and effort in creating individual RFQs for each currency. As with before, you can choose to accept quotes for a partial or the full amount of currency, and you can also indicate if you want a fixed requested rate for each currency.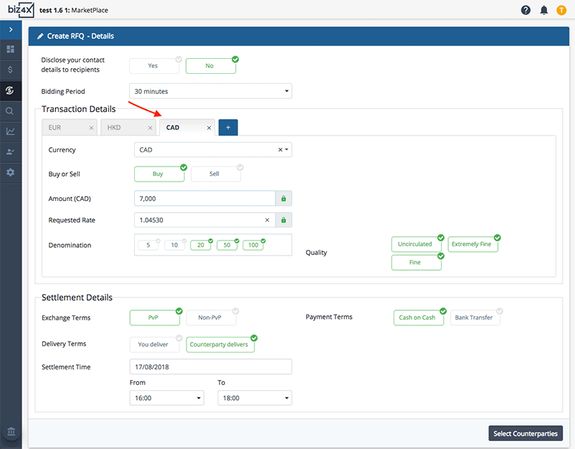 A summary of all the currencies being requested will be available for review before the RFQ is sent.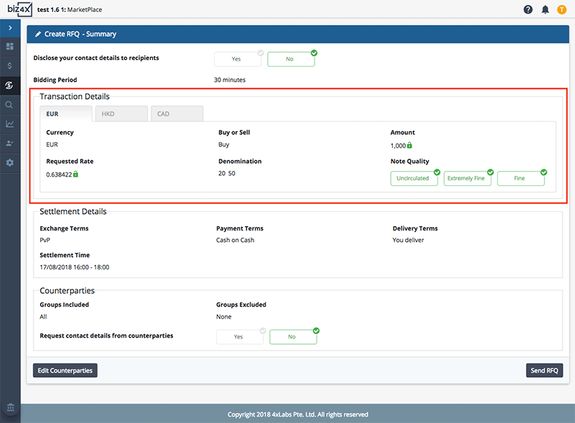 Marketplace users with matching parameters will receive the above RFQ. Receivers will be able to quote for the currencies and amount they wish to (if partial quotation is allowed), as well as propose their own rate (if a fixed rate has not been specified). In the example below, the Receiver is only submitting a quote for HKD, for half of the amount that was asked for in the RFQ.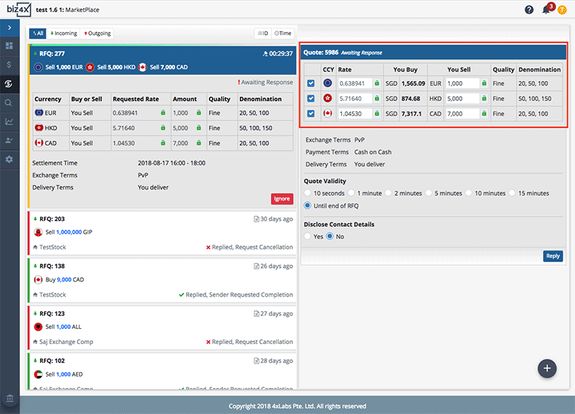 Once the quote has been submitted, you, as the Sender, can choose to accept the quote.
You can continue accepting more quotes, even after accepting the above quote. You will see a summary of all the quotes you have accepted on the right side of your dashboard at the top.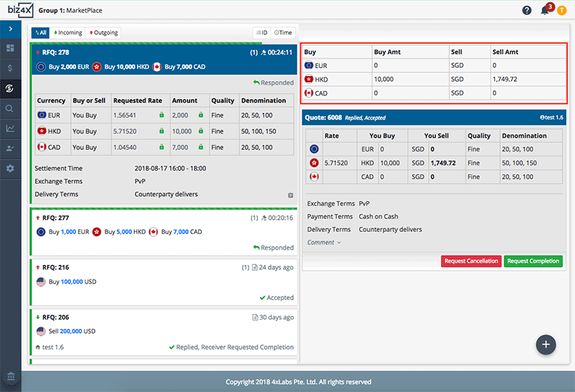 We hope the above Marketplace improvements will make it far more convenient and easy for you to trade on the platform. The team has made some improvements on the technical side, and also fixed a couple of bugs pertaining to the Profit and Loss report, as well as the Multi-Document upload feature.
We look forward to hearing your thoughts on this new release at support@biz4x.com.

Join Biz4x to start growing your business
Sign up for a free trial today!