RESOURCES
News
Find out about our latest product updates as well as trending topics in the business world
25 July 2018
Biz4x Release 2.6: Requested Rates on Biz4x Marketplace
As we activate the Biz4x Marketplace for more and more money service businesses, we continue to receive feedback on suggested improvements to the trading platform. In the last month, we have been working on implementing the most highly demanded features. Previous releases have seen the debut of new functionality such as the ability to disclose contact details, partial fulfillment, clearer notifications, denomination specification, as well as the extension of bidding period - all of which were based on feedback from the community. Today, we're adding two new requests to that growing list in Biz4x version 2.6.
Marketplace
Requested Rate
Some of our money service operators have requested for the ability to suggest or request for a specific exchange rate for the currency and amount they wish to trade.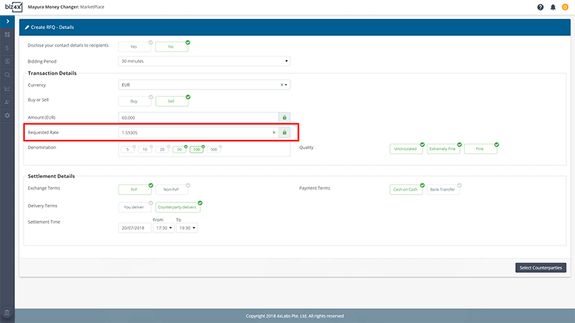 When you request for a rate, you are also given the option to indicate whether you only want to accept trades that conform to this rate specification, or whether you are willing to accept quotes from Receivers with a rate different from what you have requested. This is indicated by the lock icon. A green closed lock indicates that you only want to see quotes with the requested rate, while an open green lock means that you are open to receiving Quotes that do not adhere to the requested rate.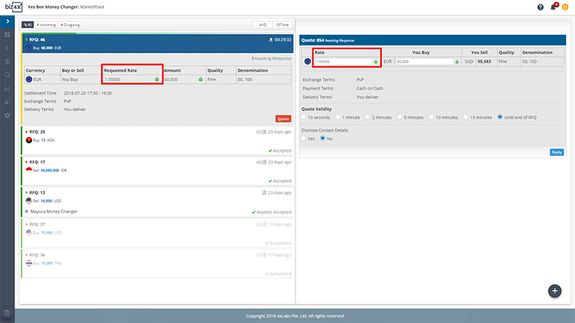 When responding to an RFQ, Receivers will only be able to change the rate if the Sender has not made the requested rate compulsory. In the above example, the Sender has enabled the option to receive other quoted rates, hence the capability to edit rates is available.
Decimal Precision
We know how important accuracy is for you in the currency trading business, thus we have standardised the precision of rates on the Marketplace to six decimal places. This is to ensure a sufficiently high level of precision for your business deals, as we know how even a minor change in pips can mean the difference between profit and loss for your business. Regardless of what your precision settings are in Business Management, the precision accuracy of six decimal places will be applied to all Marketplace participants, so Senders and Receivers are trading under standard conditions, on a level trading field.
As per your requests, it is now possible to display rate board titles in both upper and lowercase instead of having them display only in uppercase. Other improvements include a few bug fixes on custom receipts and regulatory reports.
We hope that these new features will greater facilitate the ease and convenience of trading on the Marketplace, and bring about more business for your currency exchange. We now have a dedicated page for our user guides, so do feel free to reference these guides if you need a quick refresher on the different Biz4x modules, and associated features.
That's all for this week's update - as always, send questions and comments to support@biz4x.com.

Join Biz4x to start growing your business
Sign up for a free trial today!