RESOURCES
News
Find out about our latest product updates as well as trending topics in the business world
21 September 2018
Biz4x Release 2.9: Setting up Your New Telegraphic Transfer Rates and Business Compliance Policy
We have a really major update this week with the introduction of two new features: Telegraphic Transfer rates and the Compliance Policy. Aside from the debut of these new features, Biz4x release 2.9 includes general system improvements in the rateboard templates, transaction report and overall performance. We've a lot to cover for this update, so without further ado, let's dive into these new features.
Business Management
Telegraphic Transfer Rates
Many members of our Biz4x community are not just dealing with currency exchange. Often, they provide remittance services for individuals looking to send money overseas. Over the last two years we have built out a full-service platform for currency exchange, and in the coming months we will be adding more features to support remittance activities as well. Our first feature debut for remittance is the addition of Telegraphic Transfer (TT) Rates for the sending of currencies under Your Rates in the column You Send.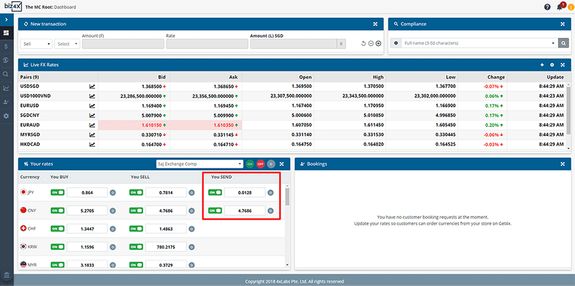 To activate this feature, go to Your Currencies > Settings and select the currency you want to add TT rates for. You will notice that there is now a new third option called Send. You will want to select this option to enable it. When this feature is active it will be in green, instead of being greyed out.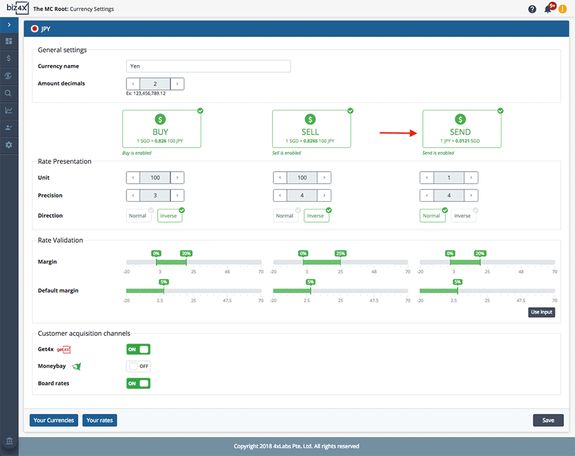 As with Buy and Sell rates, you can set parameters for rate validation and a default profit margin that falls within these parameters for TT rates. This will allow you to click on the grey D button on the Your Rates section to quickly update to your default currency settings when you want to update your rates.
Rateboard
The rateboard template has been updated to include the ability to display TT rates to customers.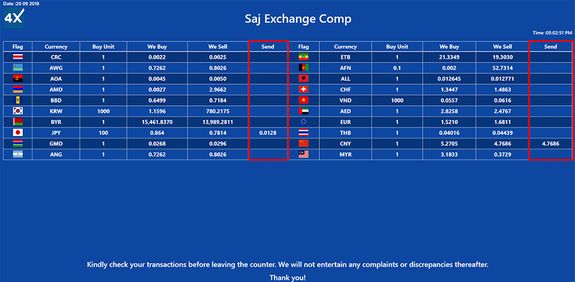 Click on the Edit Settings Template gear icon that corresponds with the rateboard template you wish to edit. Under the Rateboard table tab, you will be able to see a few new options when it comes to adding columns on the rateboard.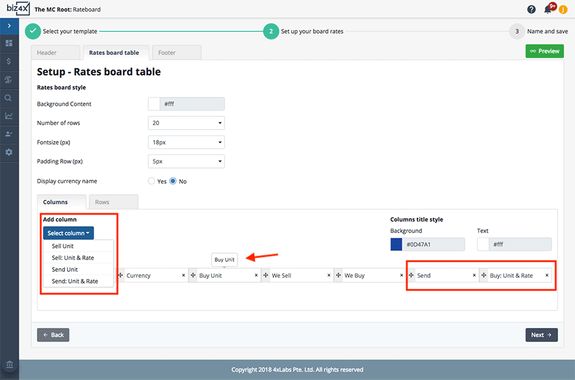 The rateboard template now offers new options and formats for rate display - Buy: Unit & Rate, Sell: Unit & Rate, Send and Send: Unit & Rate
The columns can be dragged and dropped in any sequence the user pleases
We've also added an indicative label for each column so the user knows exactly what information is meant to be displayed here, when they hover over the column. This would be especially useful in the event that the header of the column has been edited.
Here's what the rateboard would look like with these new settings.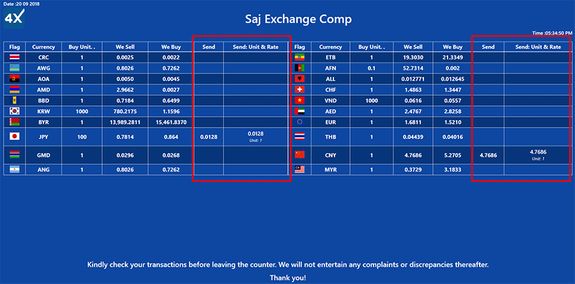 Transactions Report
Once again, we have worked in a request from the community to include the names of users who have recorded transactions in the Transactions report. If you export any Transactions report now, you will see one additional column at the end, "Recorded By" where the user names are recorded for each transaction they have saved. This would allow for more accountability across your currency exchange operations.

Compliance
Compliance Policy
A significant new feature on the Biz4x platform is the new Compliance Policy that can be found within the Compliance module. The new Compliance Policy was months in the making and involved detailed discussions with members of the Biz4x community on their KYC and regulatory needs. It is a highly open, flexible and adaptable system for implementing risk scoring in money exchange businesses to categorise customers in low, medium or high risk categories, based on various risk factors related to the transactions themselves or the customer profiles. You can specify various levels of enforcement actions to be taken against high risk customers as well. The Compliance Policy empowers businesses to create their own policy for risk assessment.
Maintaining Your Current Transaction Settings
By default, the New Compliance Policy will not be applied until you have manually activated it. However, if you wish to switch back to your legacy settings after trying the new Compliance Policy, here's how to do it.
For those who wish to keep their compliance policy simple by simply capping the transaction amount and keeping their current settings, go to Transaction settings to review your current set-up. Be sure to select the checkbox "Use Legacy Transaction Settings".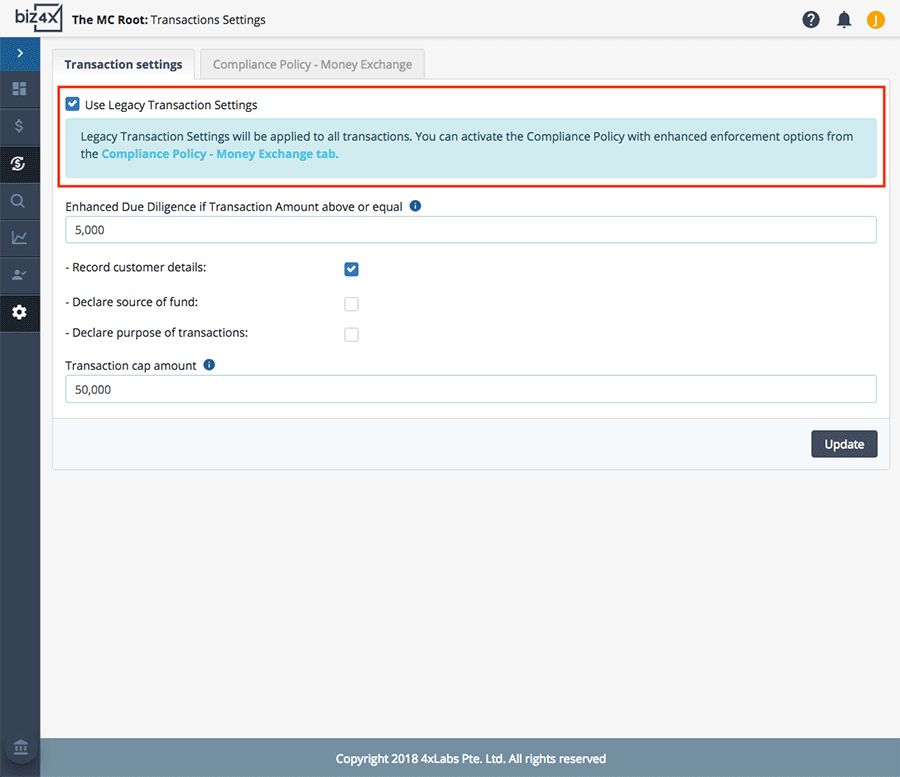 That's all there is to it - your current transaction settings will be retained.
However, if you go over to the main Dashboard, you will see that attempting to record an amount over $5,000 will trigger a notification that "Transaction is Enhanced Due Diligence". You will see the reasons why when you hover over this notification, as well as the required action that needs to be taken, which was an option that was selected under Transaction settings.

Do note that only Account Owners can switch between legacy transaction settings and the new Compliance Policy.
Setting Up Your Business Compliance Policy
We highly recommend setting up your business Compliance Policy as it will help to safeguard your business against various risks. There are two ways of accessing the settings for your Compliance Policy. Under Business Management > Transactions > Settings and under Compliance > Compliance Policy > Money Exchange.
Make sure that you are on the tab "Compliance Policy - Money Exchange". Select the checkbox for using Compliance Policy at the top of the screen.
The Compliance Policy is comprised of three sections - Risk Profile, Risk Scoring and Enforcement.
Risk Profile is where you specify what specific actions need to be taken when a transaction is recorded, and what actions constitute enhanced due diligence, for example if it is above a certain amount like $5,000 in Singapore. You may choose that declaring the Source of Fund and Purpose of Transaction is necessary for all transactions, in which case, you would check these boxes for all amounts. If a transaction requires enhanced due diligence, you may require Customer Details to be recorded and Customer Screening to be conducted - in such a case, you would check these options for Enhanced Due Diligence.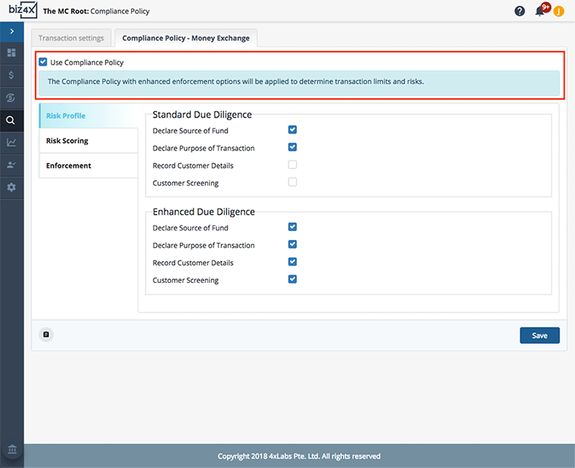 Next, go to the Risk Scoring screen.
The Transaction Details and Customer Details sections basically detail a list of risk factors. Policy options for Transaction Details apply to each transaction that is being recorded while policy options for Customer Details govern past cumulative transactions as well.
Under Transaction Details, there is Payment Method, Purpose of Transaction, Funds (source), Collection Method and finally, transaction Amount. Under Customer Details, there is Nationality, Compliance Search, Transaction Volume in the last 30 days, Transaction Frequency in the last 30 days, Existing Customer and Customer Type.
Assign a score to these risk factors. Your scoring system can be based on any numerical range. Whether you choose to assign scores from 1-10 or 1-100, our system is built to cater to your choice. A higher score will mean greater risk, while a lower score is less risk.
You can request for a highlighted warning if certain risk factors are selected, by checking the Highlight Warning box beside the risk factor.
You can also select for an action to take place if certain risk factors are present.
For example, you may choose to assign a higher score for certain risk factors such as a $20,000 cash transaction from someone who is not a regular customer, and is a foreigner from a high risk country like Syria. You will certainly want to assign a higher score to any sanction or warning matches, and perhaps even assign an action to disallow this transaction.
However, there are other less severe actions you can assign, such as Flag as High or Enforce Due Diligence (mandate the additional security screening options you selected under Risk Profile earlier), if you would rather avoid such a draconian measure of banning a transaction outright.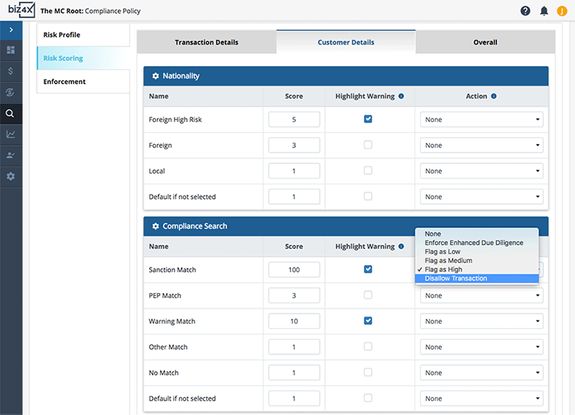 Under Transaction Details, you will see a section on Amount. As per the previous legacy settings, we will make it mandatory for enhanced due diligence to be applied to any amount that is equal to or above $5,000, and the maximum amount allowed in a transaction is $50,000.
If you would like to trigger enhanced due diligence for amounts above $5,000, select the Enforce Enhanced Due Diligence action for any amount above $5,000. Remember the options you selected under enhanced due diligence earlier? This will mandate the recording of customer details and customer screening.
In the example below, no action is taken for any amounts between $0-5,000, but the action Enhanced Due Diligence is selected and set for any amount equal to or above $5,000. To prevent any transaction above $50,000 from taking place, as per the previous legacy transaction settings, the Disallow Transaction should be selected.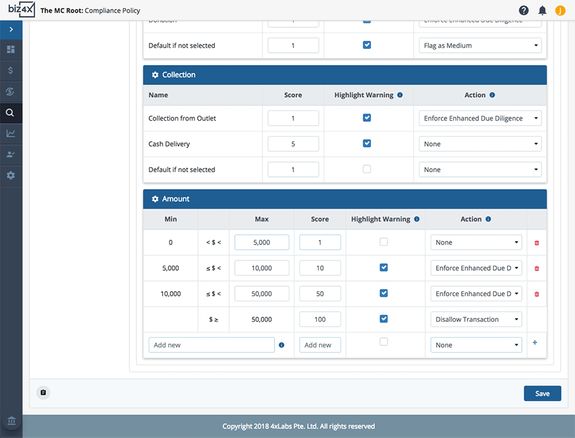 Under the Overall screen, you will see how the system has automatically created a scoring system for risk classification, based on the scores you have entered for each risk factor.
You can adjust the scoring system for the low, medium and high risk classification, or assign certain actions to occur for each risk category.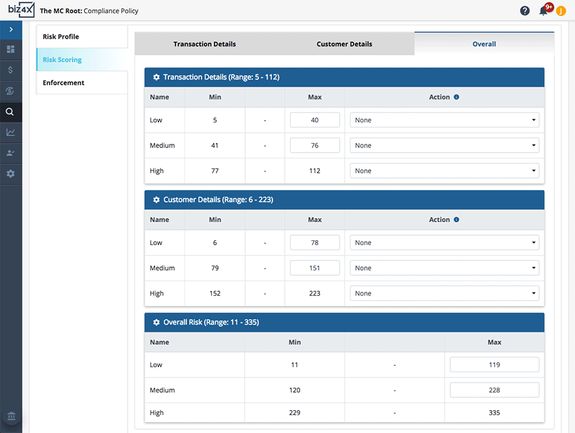 Next on the Enforcement screen, you can choose what enforcement action the system should automatically carry out, based on the risk level of each transaction. You can only choose to accept or reject transactions based on their risk categories for now, but we will soon be rolling out options for notifying your compliance department, reporting to authorities and finally making it mandatory for managers to approve transactions.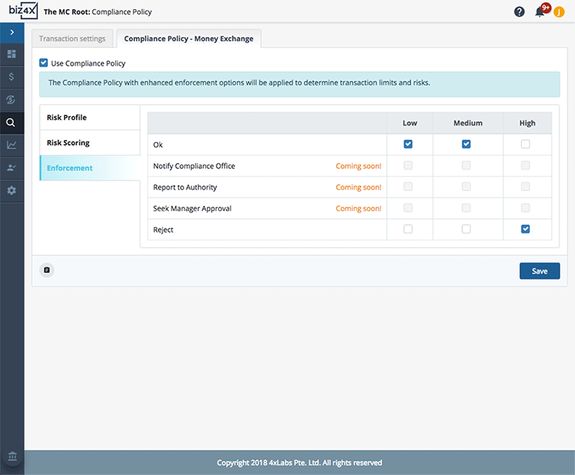 Now that your new Compliance Policy is set-up, let's head over to the New Transactions section on the Dashboard to see what's new.

Even before an amount is entered into the system, you can see that the options for Source of Fund and Purpose of Fund are highlighted as they are mandatory fields. This is due to the earlier selection under Risk Profile, where these options were selected for Standard Due Diligence. All new transactions must thus include these two pieces of information. If you do not wish for tellers to have to provide this information, make sure these associated boxes are unchecked under Risk Profile for Standard Due Diligence.

As the amount requested is greater than the amount of $5,000 that was earlier specified, it triggers the need for Enhanced Due Diligence - compulsory recording of customer details and screening. As cash is a collection method, and the amount is larger than $5000, these risk factors have been highlighted as per the Compliance Policy that governs all transactions.
After filling out customer details, customer screening is necessary for a transaction that triggers enhanced due diligence.

Running the customer's name through a PEP list, does not provide any matches, hence the transaction is flagged as medium risk due to certain risk factors (cash, foreign country risk and large amount), but it can still be recorded and saved in the system.

Screening the customer name against warning lists however brings up a close match. As such, this transaction is flagged as high risk and disallowed.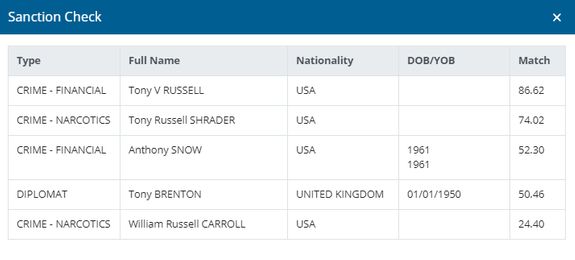 Whether a transaction is allowed, flagged, requires enhanced due diligence or banned is really based on the selected actions in your Compliance Policy and scoring system for risk classification that is quick and simple to set-up.
If a transaction is successfully recorded, you will be able to reference the risk factors of each transaction under the Transaction History screen.

As a note, Biz4x refers to the guidelines set out by the Financial Action Task Force on high risk countries. At a later stage, users will be able to curate their own personal list of high risk countries.
Creating a Compliance Policy may seem complex at first, but it's a really simple concept based on assigning higher scores to high risk factors and selecting accompanying actions for each risk category. Once the Compliance Policy has been set up, you can rest easy with the peace of mind that you have done your risk assessment of each customer as required by your local regulatory authorities. What's best is the Compliance Policy can be used in countries with different regulations as it is a fully customisable, flexible and open system that is built to accommodate organisations with different compliance needs, be they on the strict side, or more lenient. We have started out with default settings based on money services businesses in the Singapore market, but if your local currency features high denominations such as the Indonesia rupiah for example, you will want to adjust the maximum Amount under Transaction Details.
If you have issues creating a Compliance Policy, reach out to your account manager, who will be happy to walk you through this process! Alternatively, you can write in to support@biz4x.com if you have more questions. We are really excited to be able to help you refine your risk assessment policies with Biz4x and look forward to your feedback, so we can improve this new Compliance Policy feature.
Finally, last but not least, you may notice that the marketing pages are loading a little faster with this new Biz4x v2.9 release. We'll leave you for now to explore these new features and look forward to receiving your comments to further improve these new innovations soon!

Join Biz4x to start growing your business
Sign up for a free trial today!