RESOURCES
News
Find out about our latest product updates as well as trending topics in the business world
2016
Product Update Version 1.1: Set your rates, manage your bookings and more in Biz4x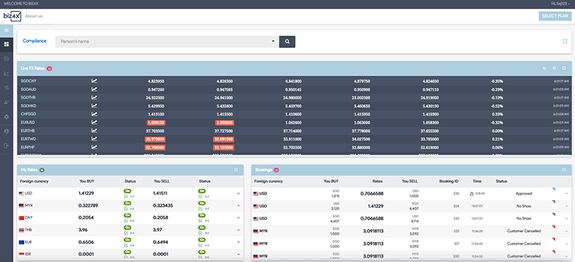 Small things add up to make a big difference when you are trying to better manage your business, so in case you missed it, here are some features we rolled out in version 1.1.0.
The general improvements we made included:
- Breadcrumbs for ease of navigation
- Automated refresh of live FX rates and booking status upon reconnection in the event that the Internet connect drops
- UI/UX improvements
Live FX rates
We onboarded a select group of money changers on Version 1.0 that were kind enough to provide us with some feedback, hence Version 1.1 incorporates some of these suggested changes. One of the recommendations that was made was the ability to launch different browser tabs to view different currency pair tables, and this was implemented in version 1.1.0.
Your Rates
As with previous versions of our platform for money changers you can add your currencies and set your BUY and SELL rates on a dedicated screen. This information will be synced across different user accounts so all your employees will have access to the same data for reference.

At one glance, the above Your Rates dashboard allows you to check the status of your rates, as well as customize different settings.
The Biz4x Your Rates dashboard is integrated with Get4x , our exchange rates discovery platform for travellers, which means that the rates you set within Your Rates, will be visible to the public on the Get4x directory. If the indicator beside Show on GET4X is in green, it means that your rates are visible on Get4x and travellers can search for your business. You can also turn that feature off, but we would advise against it since it is sending customers directly to your store!
Likewise, if you see the green "Active" indicator beside Booking status, it means that customers can make an online booking directly with your business based on the prevailing rate that you have set, and they will be able to pick up the currency they have ordered from your physical store. Once again, you can also turn off this feature, by clicking on the green Accept booking indicator, but why would you say no to new customers? :)
If you see a green "Live" status beside the Rate status, it indicates that your rates have been updated on the same day that you are accessing this dashboard. In the event, that your rates have not been updated after 24 hours, our system will begin providing an indicative rate that is calculated through an algorithm that takes into account both live FX rates and the historical rates that you have previously set. It is important to note that customers can only place a booking on live rates.
Through the dedicated Your Rates screen, you can also quickly and easily update your rates, or set a certain margin so that your rates are automatically calculated and updated.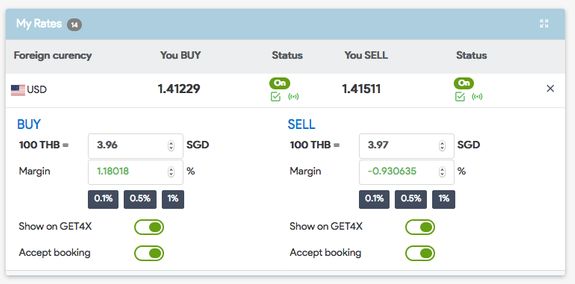 Bookings
When customers make a booking with your business, you can view and manage these requests with a single glance at your Bookings dashboard. Customer bookings can be accepted or rejected within 10 minutes, after which the booking requests will expire if no action is taken.

If you are unable to accept a booking request, you will be asked to select a reason for that rejection. (eg. rate was inaccurate, insufficient currency in stock)


An accepted booking is valid for two hours, which means that customers are required to pick up their currency within that time frame. Once a Get4x user has collected the currency they ordered, you can mark a booking as complete.

If customers are a no-show or booking requests are not marked as complete, the system will automatically consider any approved booking requests as expired after your indicated store closing hours.
Here's a quick recap of the updates in version 1.1.0:
- Live FX Rate tables can be launched in new browser windows
- The Your Rates feature which is integrated with Get4x has been launched which allows for the setting of rates which will appear on Get4x
- Through the Your Rates dashboard, money changers can allow customers to search for rates and make currency booking requests on Get4x
- If rates are not updated daily, indicative rates will be displayed which means customers cannot order currency from your store
- Bookings can be managed through the My Bookings dashboard which display the status of all upcoming bookings in a summary view
- An approved booking will automatically expire after your indicated closing hours if not marked as complete
As always, we welcome all feedback and look forward to rolling out more updates that will benefit both your business, employees and customers!

Join Biz4x to start growing your business
Sign up for a free trial today!