RESOURCES
News
Find out about our latest product updates as well as trending topics in the business world
30 March 2017
Product Update Version 1.4: Manage Your Stock of Local and Foreign Currencies Through Biz4x's Point-of-Sale (POS) System
It's that time of the week again when we reveal our latest updates to Biz4x in version 1.4 of our operating system for money changers. Our focus in the last couple of weeks has been to integrate your feedback and bring to you some much needed upgrades to build out our full feature set for Business Management. So without further ado, we present to you a better way to manage your stock of currencies in Biz4x!
How Does the Stock Feature or Point-of-Sale System in Biz4x Work?
Your inventory of stock is currently based on the number of currencies you have already set up in Your Rates. To input a new currency into your inventory, you'll have to first list its Buy and Sell price in Your Rates.
1. Updating Stock Entries For All Your Local and Foreign Currencies
Access your Stock feature and inventory of currencies from the menu to the left side of your dashboard. Once you have entered this dedicated screen, simply update your stock of local or foreign currencies by clicking on the button "Update Stock".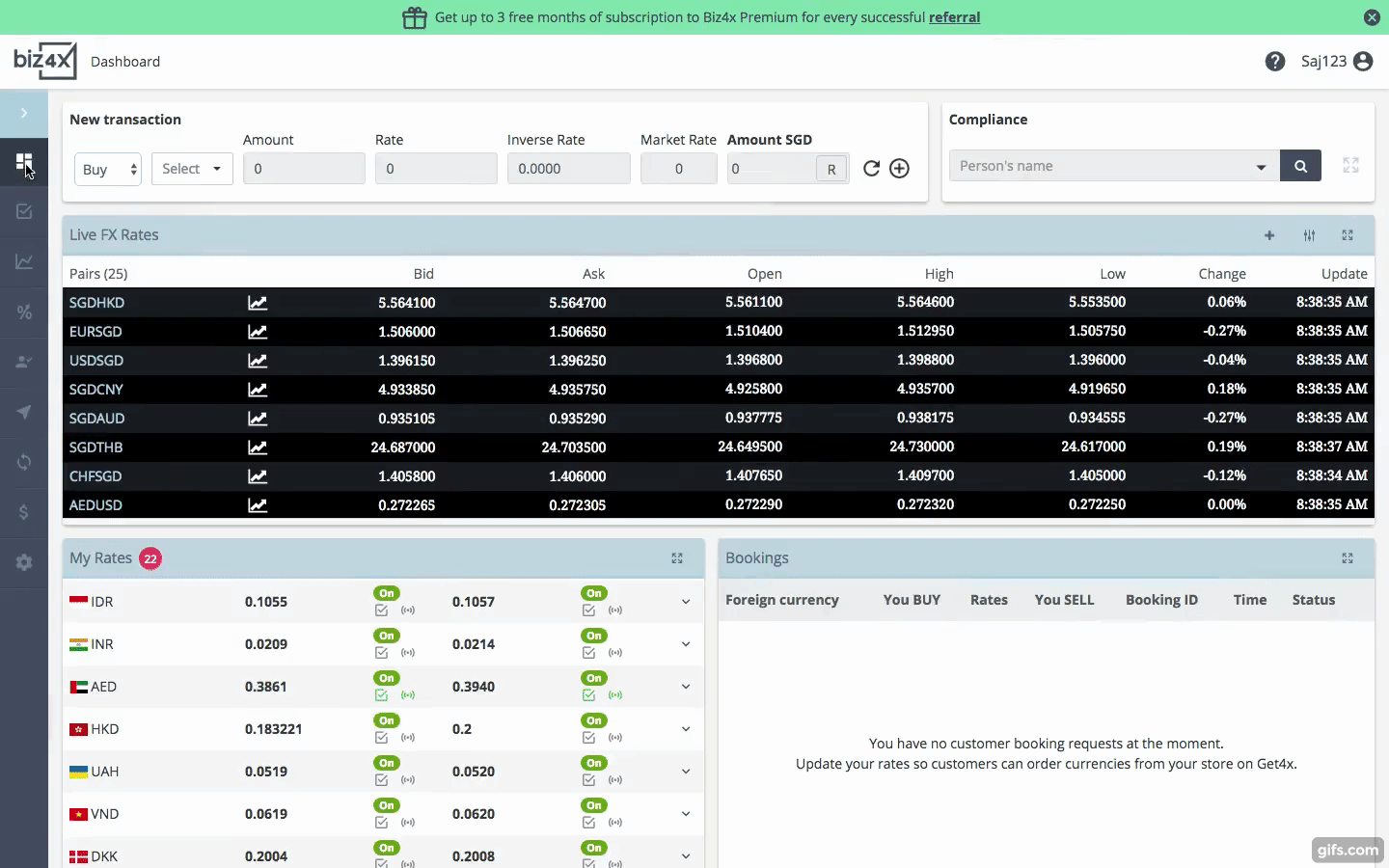 We allow you to choose between several different reasons for updating the amount of stock that you currently have for a particular currency in the system:
- Purchase of Currency
- Sale of Currency
- Commission on currency exchange
- Adjustment - foreign currency
- Sales of Phone card
- Direct Marketing
- Tax
Key in the amount of stock you want to be credited or debited depending on your reason for adjustment that you have stated earlier.
2. Keep Track of Your Stock Adjustment History
If you are managing multiple currency exchange retail outlets, it is not only useful for you to know who made changes to the stock, when, and for each outlet - it's an absolute necessity. Under the Stock feature, you can access the history of all changes so you know when an employee has made a manual adjustment to the stock, and when a customer transaction has been successfully completed. This allows you to keep tabs on how each outlet is doing and always be in the know when it comes to the general health of your overall business and facilitate accounting and reporting of business processes as well.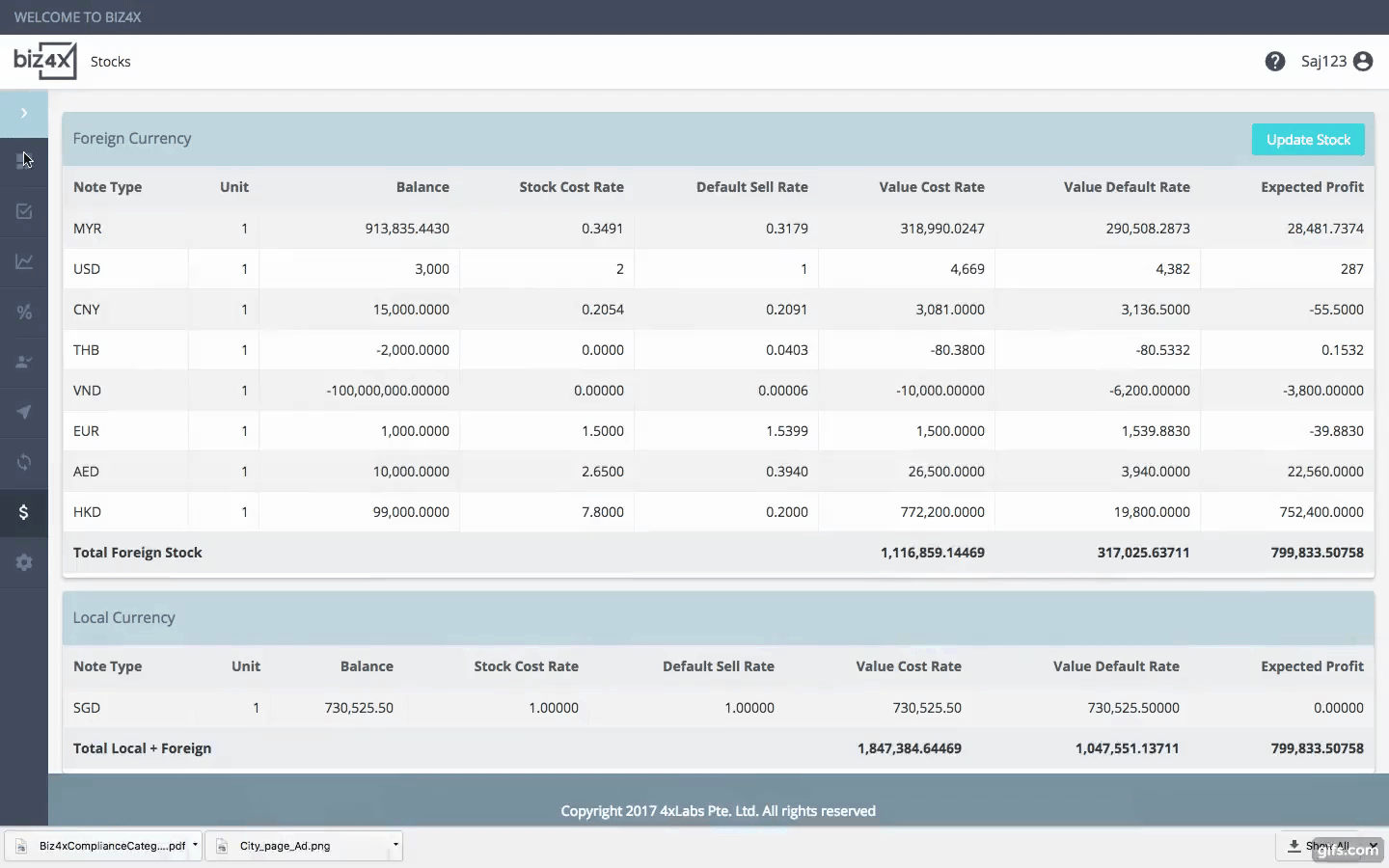 3. Customise Your Currencies
Create sub-categories for the foreign currencies that you have in your inventory. Record the different denominations you have in stock for a particular currency. Adjust the following according to your business needs:
- Unit
- Rate Decimals
- Decimals for Inverse Rates
- Smallest Notes (Denominations)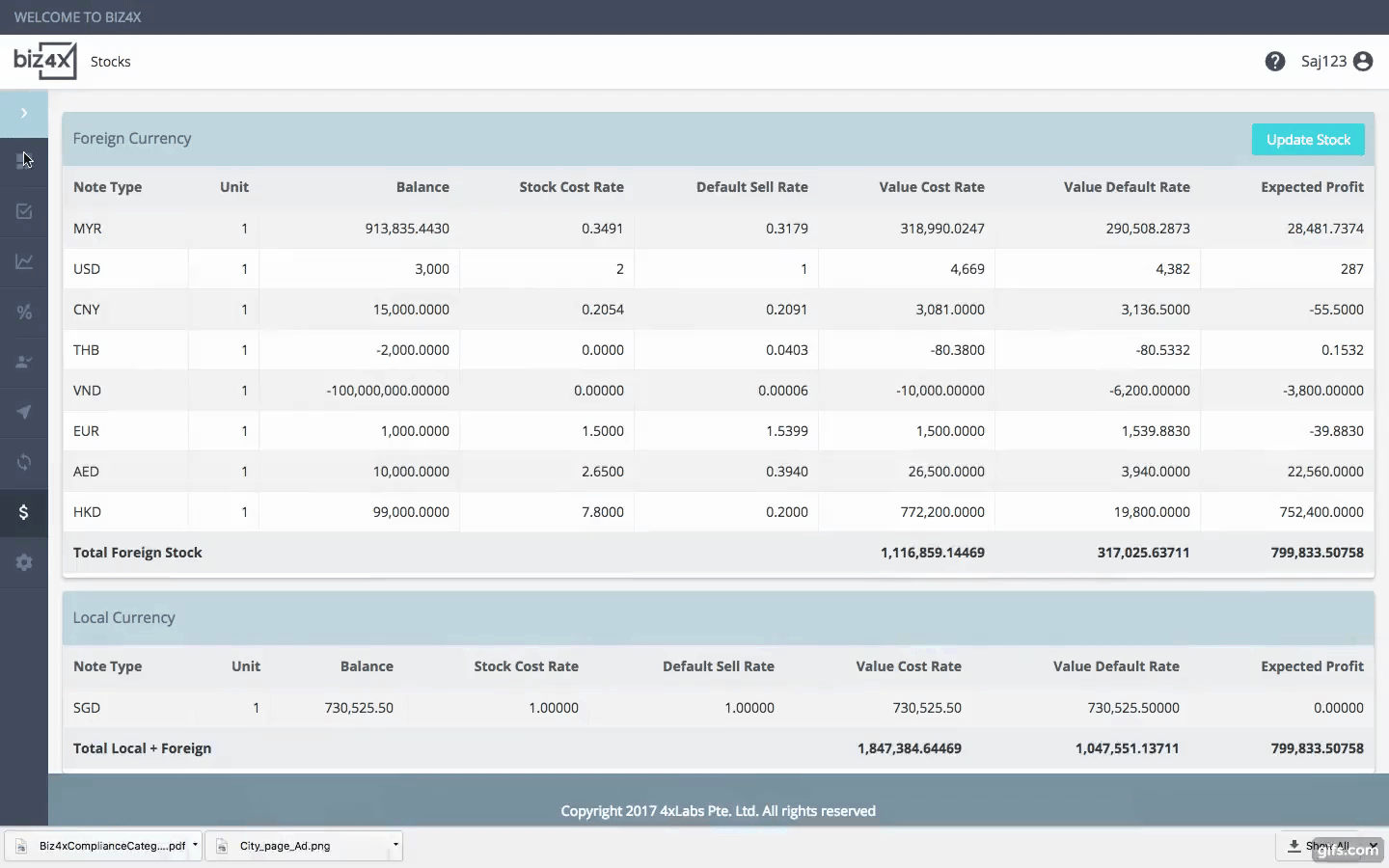 For example, you may wish to state that you have 1,000 units of USD$1 that you are buying or selling at a rate with 4 decimal places.
4. Gain real-time updates on your stock of foreign and local currencies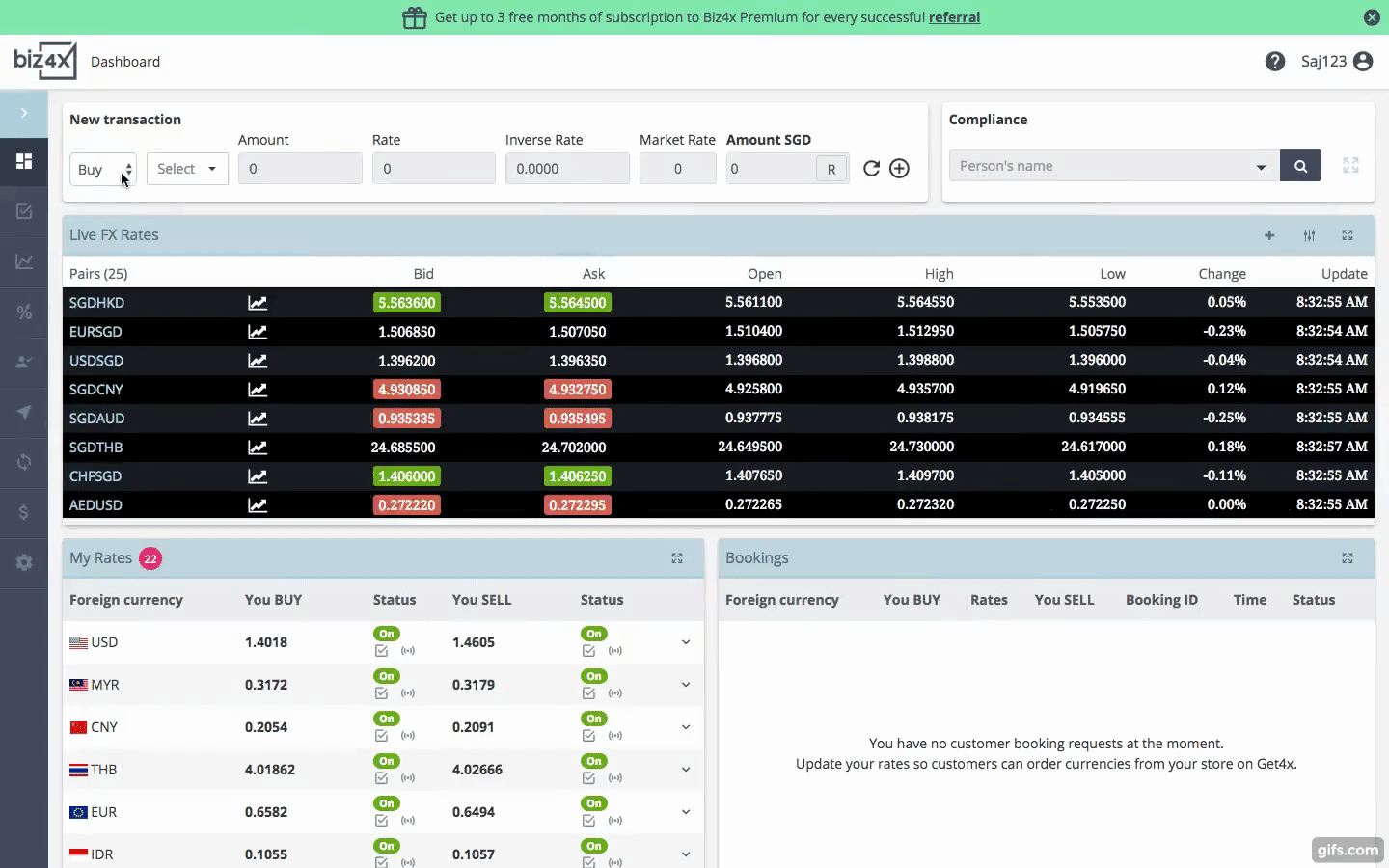 When you are in the midst of recording a customer transaction, Biz4x will display a notification that updates you on how the amount of currency that you have in stock will be affected once this transaction will be made. This alerts you when you are running low on stock when it comes to a particular currency and have to replenish your supply.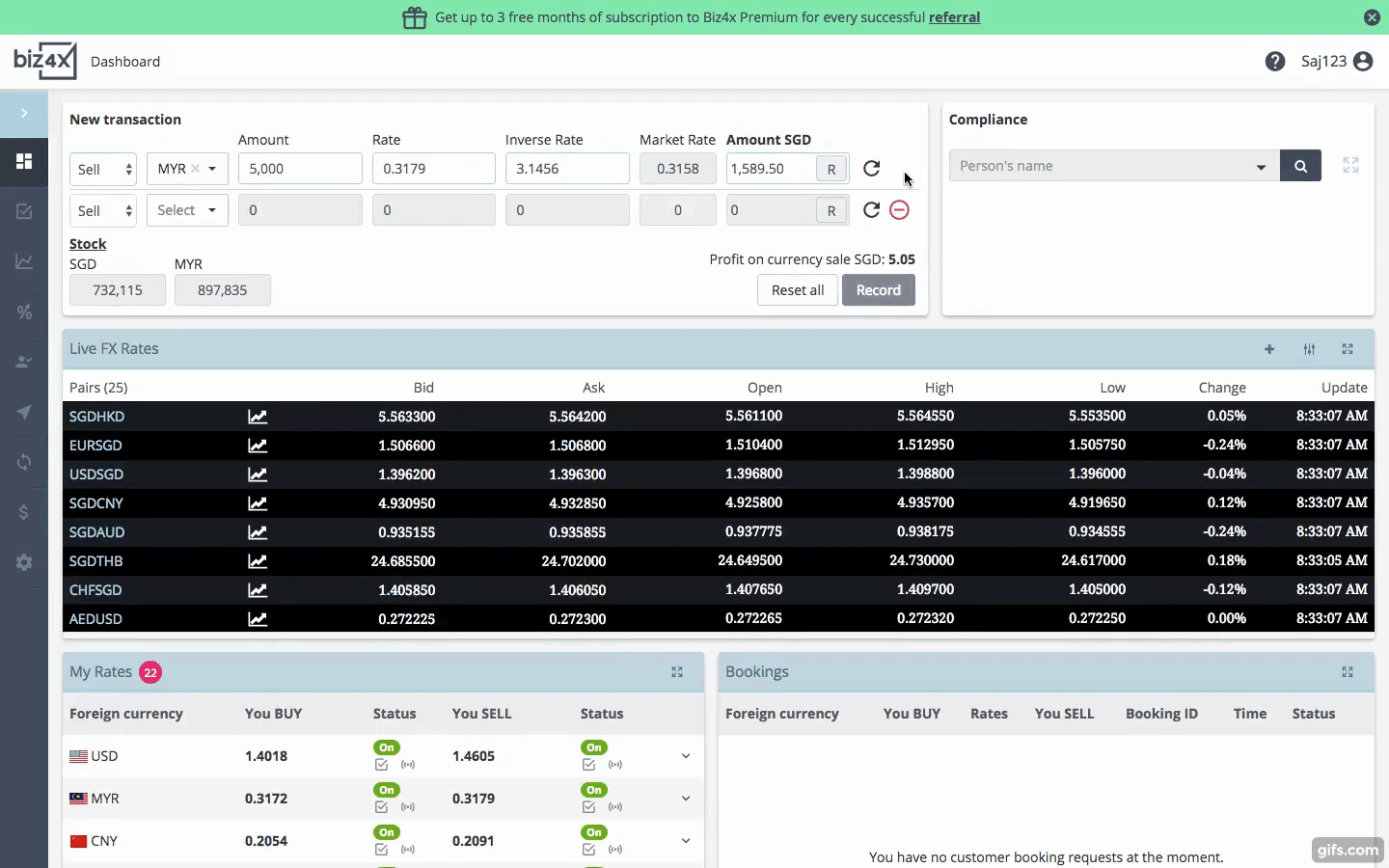 We hope that you find these latest updates useful when managing your overall currency exchange operations, and as always please do send us your thoughts and feedback on Biz4x version 1.4 at support@biz4x.com.

Join Biz4x to start growing your business
Sign up for a free trial today!