RESOURCES
News
Find out about our latest product updates as well as trending topics in the business world
22 June 2017
Product Update Version 1.7 - Upload Important Documents to the New KYC Repository
KYC is an important part of currency exchange operations, whether it has to do with knowing who your customers or counterparts are. Aside from complying with local regulatory laws, it also facilitates the daily buying and selling of currencies, if you know and trust who you are dealing with. In the event of an audit, having these records on file within the system helps to safeguard your business as well.
With the above in mind, we have launched a new feature, the KYC Repository to help you manage all the important documents that your business verifies before working with a partner or supplier in this latest release of Biz4x. Here's more information about how it works:
KYC Repository
Biz4x allows you to upload and store all your important business documents securely within the system. Upload copies of identification, business licenses and other information that is critical to facilitating the KYC process. Quickly and easily refer to these documents within Biz4x's KYC Repository at your convenience.
Under Settings on the side menu, is a new subsection labelled 'KYC Repository'. To create a new record of this document, you can:
Select the category you wish to file a document in

a. Company (eg: License copy)
b. Outlets (eg: Rent copy)
c. Users (eg: Teller ID copy)

Name the document
Enter the document description
Upload the document - drag and drop up to 5 documents to upload them simultaneously
Save the record of the document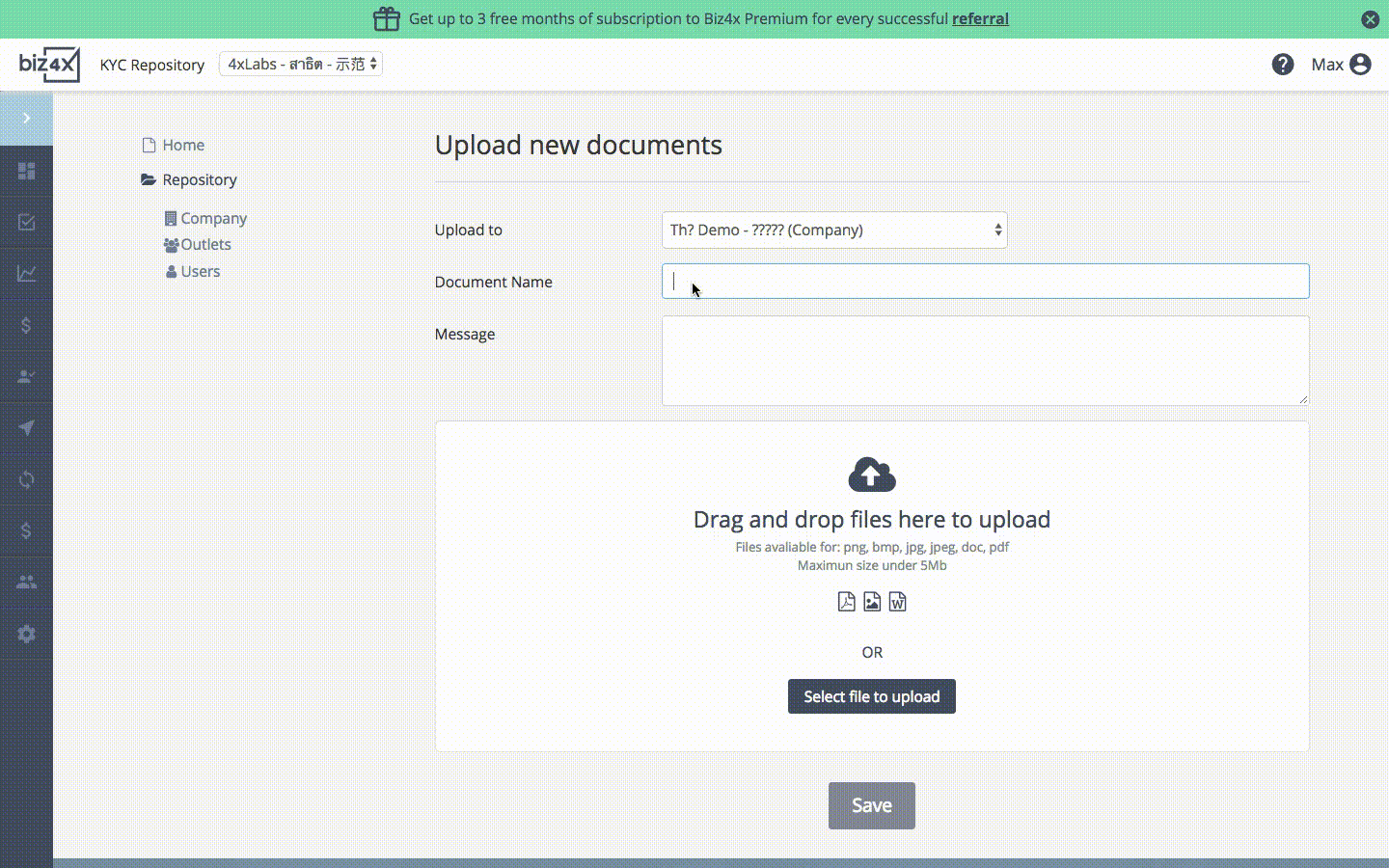 If you do not see the KYC Repository subsection in your Settings, get in touch at support@biz4x.com and we will set it up for you.
Business Management
Attach a Document to a Customer Record
While we are on the topic of KYC, we are pleased to announce that you can now attach documents to a customer record. Attach copies of customer identification such as ID cards, passports or a driving licenses as you are recording a transaction from the all-in-one dashboard, or recording or editing a record from the dedicated transactions screen. Simply follow these steps below, to attach a document to a customer record.
Select document type: Passport, driving license, ID / IC
Fill in the document number
Enter the document date of issue
Enter the document date of expiry
Upload a digital copy of the document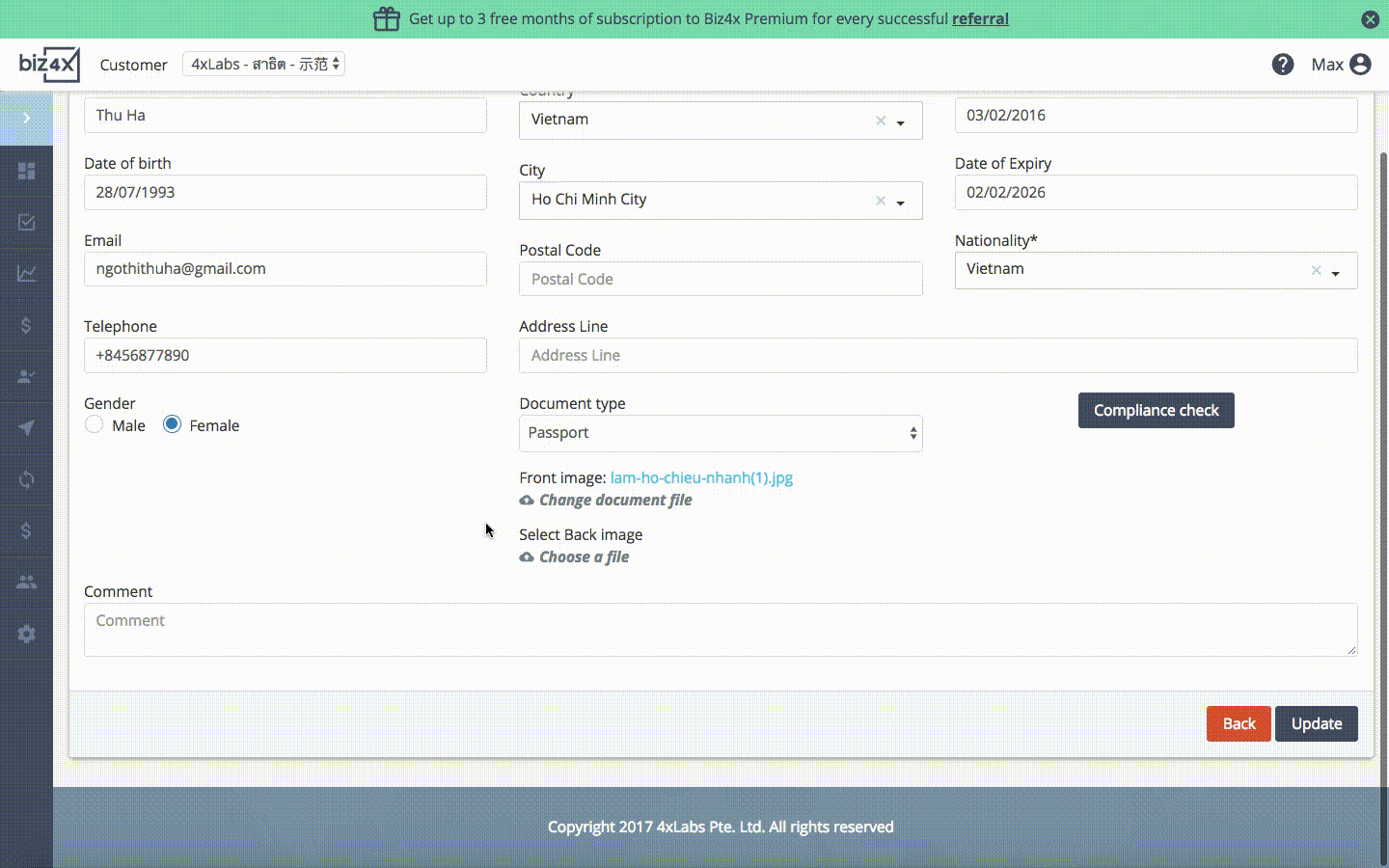 You can attach a maximum of two documents to a single customer record such as a copy of the front and back of a single document.
Easily access these customer identification documents when verifying the identity of repeat customers looking to exchange large sums of money. With Biz4x, you can manage KYC simply and effectively.
UI/UX Improvements
On a busy day, you may record hundreds of transactions during business hours. We understand that in this business, time is money, and with that in mind, we have made it faster and easier to record transactions with a simple, optimized, three-step process.
Step 1: Record Transaction Details
Recording a customer transaction? Select your type of transaction (Buy/Sell), the currency type, and enter the amount of foreign currency (F) to be exchanged. You can verify the converted amount in local (L) currency, and see the rate at which the exchange is being made.
1.1 Quickly Adjust Your Rates
Want to use a different exchange rate? Not an issue. You can use a different Your Rates for one specific transaction, or change Your Rates for all future transactions. The choice is yours.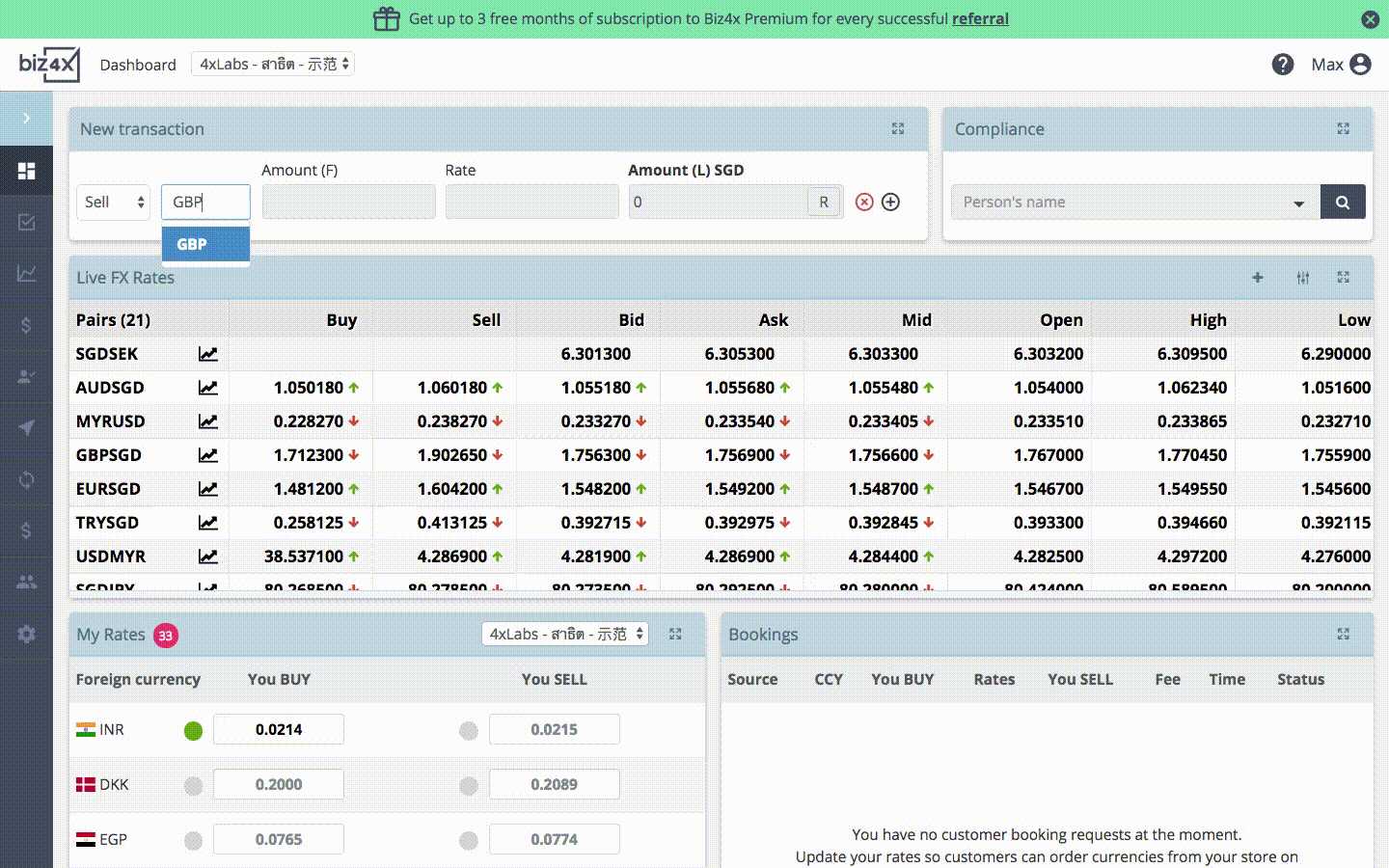 1.2 Quickly Save Transactions
Depending on the amount of currency that is being exchanged, you can save a transaction without adding customer details for small amounts like 500 USD. For larger amounts like 5000 USD, which can be pre-defined in currency settings, you can make it compulsory for your employees to record more detailed customer information (as well as attach digital copies of identification!). Choose to create new customer by checking
We've also added a new shortcut from this step, that allows you to access the screen in step 2 when you press 'Enter' from your keyboard.
Step 2: Record Customer Details
We have made some UI improvements to allow you to record customer details as quickly as possible. Here, we have reduced the number of required fields to First Name, Last Name, Nationality. If you're in a rush at the counter with the customer, you can fill in the remaining details later.
2.1 Search for an existing customer record
2.2 Start a new customer record by checking the tickbox 'Create new customer'
2.3 Attach a document to a customer record
2.4 Perform a Know Your Customer check by checking the tickbox "Compliance check"
2.5 Save a record of the transaction after all compulsory fields have been filled out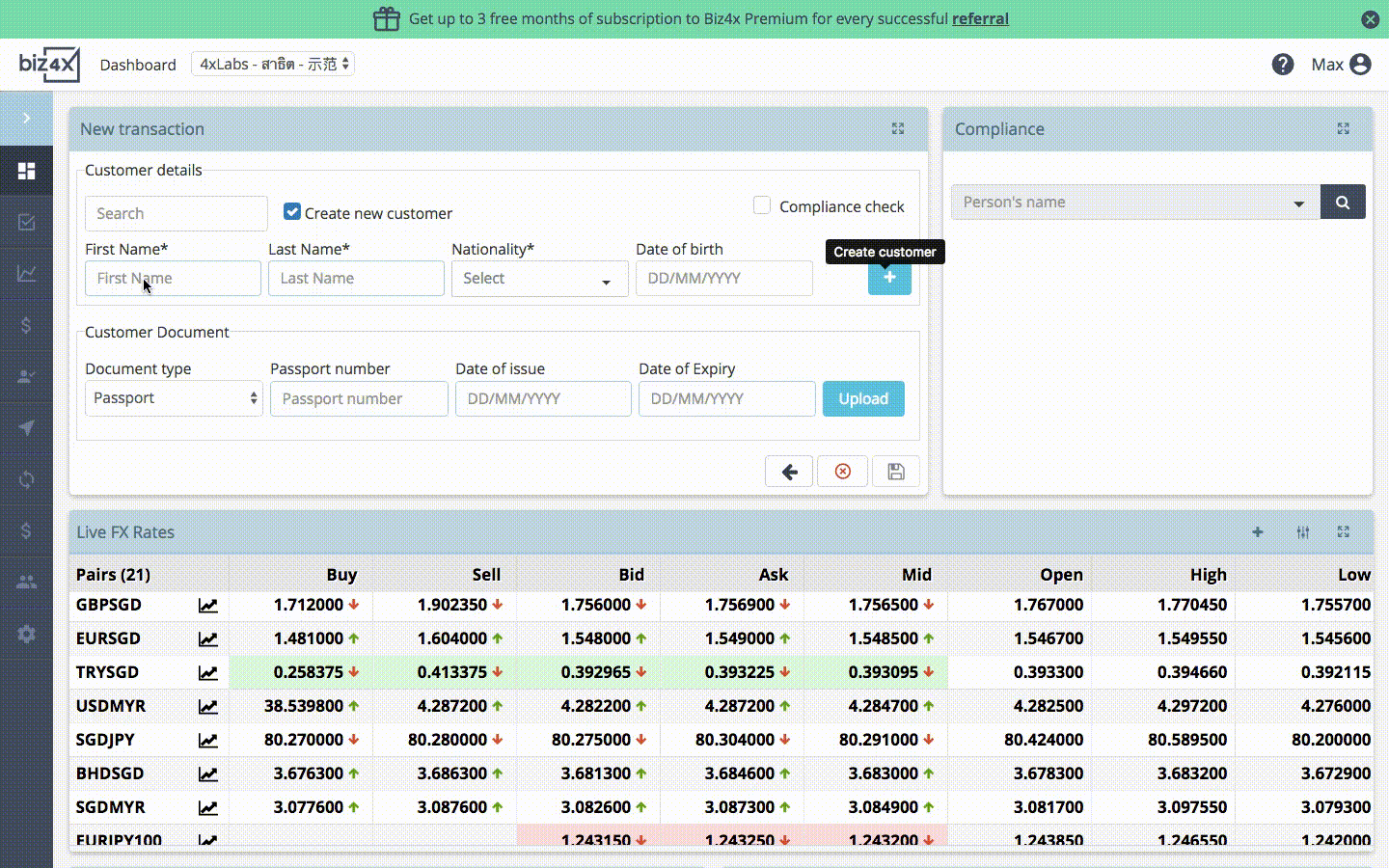 Step 3: Confirm Transaction Details
At this stage, a record of your transaction has been saved and you can view a summary of your transaction details. Here's what you can do in this screen:
- Delete your transaction in the event of a mistake
- Print receipt
- Start a new transaction by clicking on the + icon.
Your Rates
UI/UX Improvements
Here, we have fixed a number of minor issues at your request. Now, if you change a rate and encounter an error (eg. Sell rate < mid-market rate, specified rate falls outside the range of margins the system accepts), Biz4x will default back to the previous accepted value, if you click the grey arrow. Click on the field with the rate you have specified again, and the system will accept the rate as what you have indicated despite the warning.
Biz4x Mobile
While technically not a part of the web upgrade to Biz4x, we are excited to announce that we have launched an app to bring the Biz4x experience to the convenience of your mobile! Now, you can log in with your Biz4x account to access, edit and curate FX rates on your phone or tablet, so you can keep an eye on your business while you are on the go. Biz4x Mobile can be downloaded both from the App Store and Google Play, and you can learn more about how it works here. While we are starting out with FX Rates, we intend to add new features to the app, so you can soon manage your entire business, from the palm of your hand!
That's it for our latest update on Biz4x v1.7, and as always please reach out to us with any comments or suggestions at feedback@biz4x.com! We look forward to hearing from you.

Join Biz4x to start growing your business
Sign up for a free trial today!